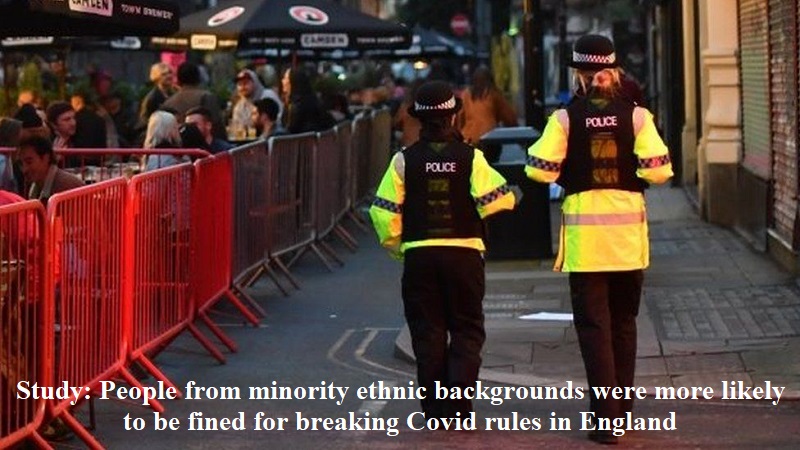 A study commissioned by Britain's police chiefs found that people from minority ethnic backgrounds in a specific area in England and Wales were up to eight times more likely to be fined for breaking COVID-19 rules. The Guardian reported on Wednesday, May 31, that racial disparity was found across all police forces.
According to the report commissioned by the National Police Chiefs' Council (NPCC) and conducted by academics at the University of Edinburgh, black individuals were three times more likely to be fined for COVID-19-related breaches compared to white individuals. The study analyzed data collected between March 27, 2020, and May 31, 2021, during which a total of 122,506 fines were issued by the police.
The study is considered one of the most comprehensive analyses of the demographics of those fined and the fairness of police enforcement of lockdown rules, which underwent multiple changes in the UK. The report revealed that fines were seven times more likely to be issued in the poorest areas compared to the wealthiest neighborhoods.
In England, the study found that the rate of fixed-penalty notices (FPNs) per 10,000 people was 19.9 for white individuals and 46.1 for those from ethnic minority backgrounds. The ethnic disparity rate was highest for black people, who were over three times more likely to receive an FPN. In Wales, the ethnic disparity rate was 2.8 times for people from ethnic minorities, while it remained similar for black people. The report's co-author, Professor Susan McVie, stated that every force area had a higher disparity rate for ethnic minority groups.
The report also noted that the highest rate of disparity was found among individuals above the age of 45, rather than among young people from ethnic minority groups who were stopped and searched by the police. Additionally, in England, men were twice as likely to be fined. Notably, the study was not published despite being commissioned and funded by the NPCC.
Earlier this year, a separate report by the London Metropolitan Police revealed disturbing assessments of institutional racism, sexism, and homophobia within the service. The report highlighted the presence of racist attitudes among some members of the Metropolitan Police, with Black, Asian, and ethnic minority officers and staff experiencing higher levels of racism, discrimination, and bullying.
Regarding the study's findings, NPCC lead for enforcing COVID-19 rules, Assistant Chief Constable Owen Weatherill, expressed concern about the disparities in the number of FPNs issued to white and ethnic minority individuals. However, Weatherill stated that the data does not explain the reasons behind these disparities and emphasized that each police force would examine the data to identify and address any biases, whether conscious or unconscious, and minimize disproportionate impacts in the future.