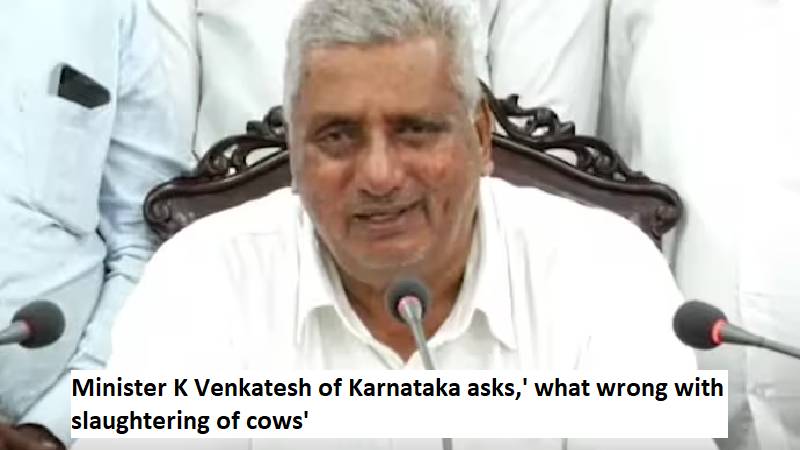 K Venkatesh, the minister for animal husbandry and veterinary sciences in Karnataka, claimed on Saturday that farmers have been finding it difficult to upkeep aged cattle and get rid of the dead. The minister went on to ask, 'If one can slaughter buffaloes and bulls, what is wrong with slaughtering cows?'
Additionally, he stated that the bill's change will be in the state's farmers' best interests overall. This occurs while the tough Karnataka Prevention of Cow Slaughter and Preservation of Cattle (Amendment) Bill, 2020, is being considered for adoption by the state's ruling Congress. The BJP, which was in power at the time, had the measure approved by the state legislative Assembly in 2021.
The proposed law calls for a complete prohibition on cow slaughter in the state and harsh penalties for those who engage in cattle smuggling, illegal transportation, cruel treatment of cows, and slaughter. According to the ordinance, killing cattle will result in a sentence of up to 3–7 years in prison and a fine between Rs 50,000 and Rs 5 lakh. For subsequent violations, a seven-year prison sentence and a fine ranging from one lakh to ten lakh rupees would be imposed.
Cattle are defined by the ordinance as buffaloes under the age of 13, bulls and bullocks of all ages, cows and their calves, and beef is defined as the flesh of any cattle.
In December 2020, the BJP administration in Karnataka passed the bill, prompting a walkout by Congress from the VIdhana Soudha in protest.