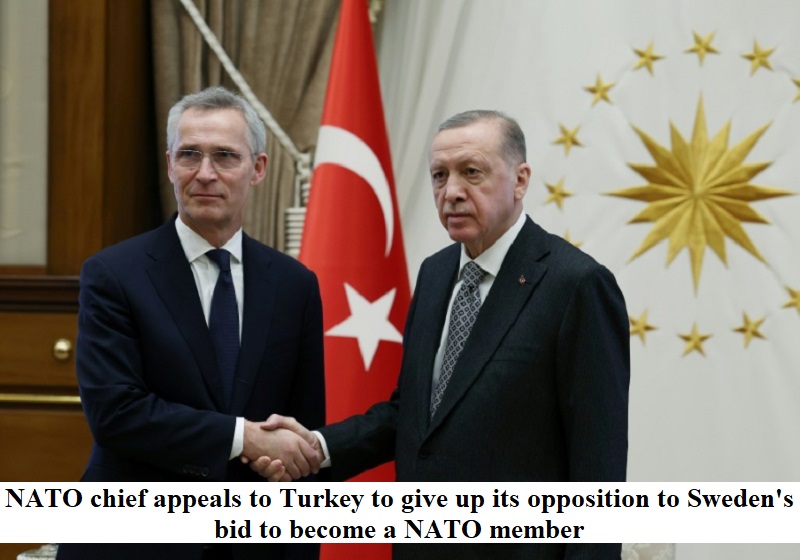 NATO Secretary-General Jens Stoltenberg made an appeal to Turkey on Sunday, urging them to withdraw their opposition to Sweden's bid to join the US-led defense alliance. Stoltenberg expressed his hope that Sweden's accession to NATO would be finalized as soon as possible.
President Recep Tayyip Erdogan of Turkey has been under pressure to approve Sweden's NATO membership ahead of an upcoming summit scheduled for July in Vilnius, the capital of Lithuania.
Stoltenberg, speaking to journalists after meeting with President Erdogan and Turkey's new Foreign Minister Hakan Fidan, who previously headed the intelligence agency in Istanbul, stated, "Membership will enhance the security of Sweden and make NATO and Turkey stronger." He further emphasized his anticipation of finalizing Sweden's accession promptly.
On Saturday, Stoltenberg attended an event commemorating Erdogan's re-election, as he begins another five-year term. Numerous world leaders were present at the grand ceremony in Ankara.
Turkey, as a member of NATO, has expressed objections to Sweden's inclusion in the military alliance. Turkey and Hungary are the only two NATO countries that have yet to ratify Sweden's membership bid, while Finland formally joined NATO in April.
Erdogan accused Sweden of being a haven for "terrorists," including members of the Kurdistan Workers' Party (PKK), a group that Turkey and its Western allies have designated as a terrorist organization.
Stoltenberg defended Sweden, stating that they have taken significant steps to address Turkey's concerns. He mentioned amendments to the Swedish constitution, the lifting of an arms embargo, and increased counter-terrorism operations against the PKK. Stoltenberg affirmed that Sweden has fulfilled its obligations.
Swedish Foreign Minister Tobias Billstrom echoed these sentiments, stating that Sweden has fulfilled all the necessary commitments to join NATO. He appealed to Hungary and Turkey to allow Sweden's entry into the alliance.
Protests against Erdogan and Turkey in Stockholm have displeased Ankara. The Swedish authorities permitted a demonstration titled "No to NATO, No Erdogan Laws in Sweden" to take place in the city center on Sunday.
While acknowledging the importance of freedom of assembly and expression, Stoltenberg noted that the organizers of these demonstrations seek to obstruct Sweden's accession to NATO, undermine collaboration with Turkey in the fight against terrorism, and weaken NATO. He emphasized the need to prevent them from succeeding in their goals.