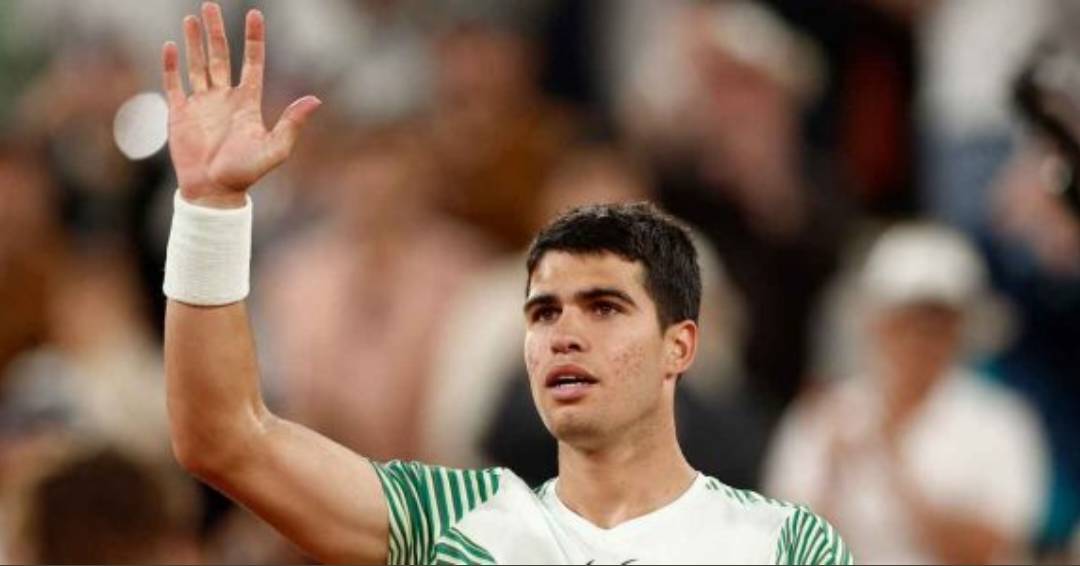 In a spectacular display of tennis, World No. 1 Carlos Alcaraz secured a spot in the French Open semifinals by defeating fifth seed Stefanos Tsitsipas. Despite a brief resurgence from Tsitsipas in the third set, Alcaraz's dominant performance led to a resounding 6-2, 6-1, 7-6(5) victory. The 20-year-old Spaniard now sets his sights on a highly anticipated semifinal clash with third seed Novak Djokovic, with both players aiming for significant milestones in their careers.
"This match is what everyone wanted to watch and it is going to be a really good match to play and to watch," Alcaraz expressed ahead of Friday's showdown. Recognizing Djokovic's status as one of the world's best players, Alcaraz acknowledged the challenge but remained determined to prove himself.
Right from the start, Alcaraz applied pressure on Tsitsipas, swiftly breaking his serve in the second game. Tsitsipas, still in search of his first Grand Slam title, struggled to match Alcaraz's power and precision. The Spanish sensation secured another flawless break, taking a commanding 5-2 lead with an incredible running forehand winner. With a flurry of points in his favor, Alcaraz claimed the first set and continued his relentless pursuit of victory in the second, breaking Tsitsipas in the opening game.
Alcaraz's aggressive tactics, including expertly executed drop shots and strategic shot placement, left Tsitsipas struggling to respond. The Spaniard added yet another break to his tally, building a 4-1 advantage and thwarting any hopes of a comeback. The crowd's support for Tsitsipas couldn't reignite his game as Alcaraz sealed the second set, capitalizing on his opponent's double fault.
The third set followed a similar pattern, with Alcaraz swiftly earning a break and surging to a 5-1 lead. However, he faced a moment of uncertainty as he squandered three match points, allowing Tsitsipas to stage a four-game rally. Yet, Alcaraz demonstrated mental fortitude and closed out the match on his fifth match point.
Reflecting on the challenging moments in the match, Alcaraz admitted losing focus but expressed satisfaction in overcoming the difficulties and maintaining a high level of play. Belief in himself remained crucial throughout, as he embraced the mindset of competing at such elite levels. "The key is to enjoy. That's the key," Alcaraz emphasized, his trademark smile beaming.
With the stage set for an enticing semifinal clash, tennis fans eagerly anticipate the faceoff between Alcaraz and Djokovic, as the Spaniard aims to secure his second Grand Slam title and the Serbian veteran pursues a record-breaking 23rd men's singles major.