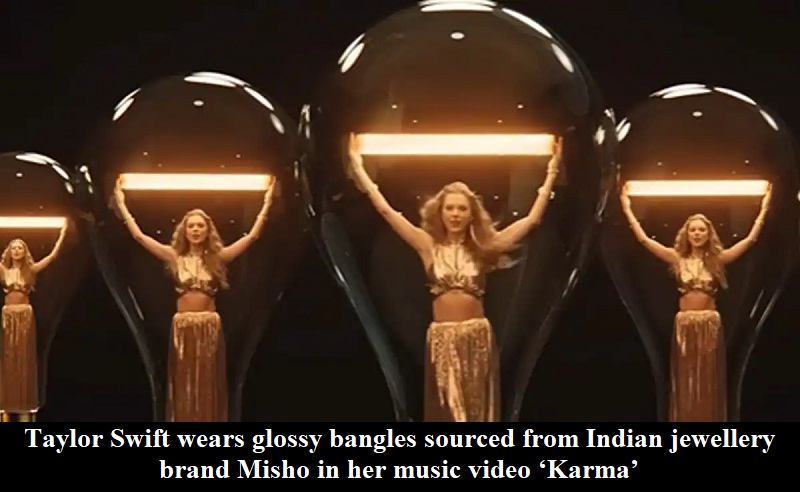 Taylor Swift, a prominent figure in the music industry, recently released her latest music video, "Karma," which is part of her newly launched album "Midnights." Known for their meticulous examination of her artistic creations, Taylor Swift's devoted fanbase, the Swifters, wasted no time in noticing an intriguing detail in the video. What caught their discerning eyes was Taylor Swift's intentional choice of exquisite glossy bangles from the renowned Indian jewelry brand, Misho.
In the video, Taylor Swift can be seen standing inside multiple light bulbs, holding up their filaments while singing the lyrics, "Ask me what I learned from all those years…" During this particular scene, she is adorned in a metallic golden skirt set and a stack of bangles by the label Misho.
According to Misho's website, the 'pala bangles' plated in 22k gold are available in pairs of three or five. Can you guess the price of these bangles? They are valued at just Rs 8,755.
Misho also took to their Instagram account to share important details about the piece, which has been generating a lot of excitement among fashion enthusiasts. They posted pictures of the bangles with the caption, "Taylor Swift Golden in MISHO. Taylor Swift stacked up in MISHO's Pala Bangles for her new tune Karma."
In response to the post, an inquisitive user asked if "this is an easter egg for The Era's Tour in India?" Another user enthusiastically urged Taylor Swift to visit India, saying, "Now ask her to come to India."
Expressing overwhelming excitement, another fan exclaimed, "Screaming, crying, and begging Blondie to come to India."
Meanwhile, an Instagram user shared, "I'm living for the hope of it all that Taylor comes to India for The Eras Tour."
For those who may not be familiar, Taylor Swift had previously showcased Misho's Juicy Sunday Hoops in her music video for "Anti-Hero."
It's not only Taylor Swift who appreciates Misho's jewelry; actresses Priyanka Chopra and Deepika Padukone have also been seen wearing pieces from the brand. Additionally, notable Hollywood celebrities like Beyonce, the Kardashians, and Lady Gaga have proudly displayed their love for Misho's jewelry as well.