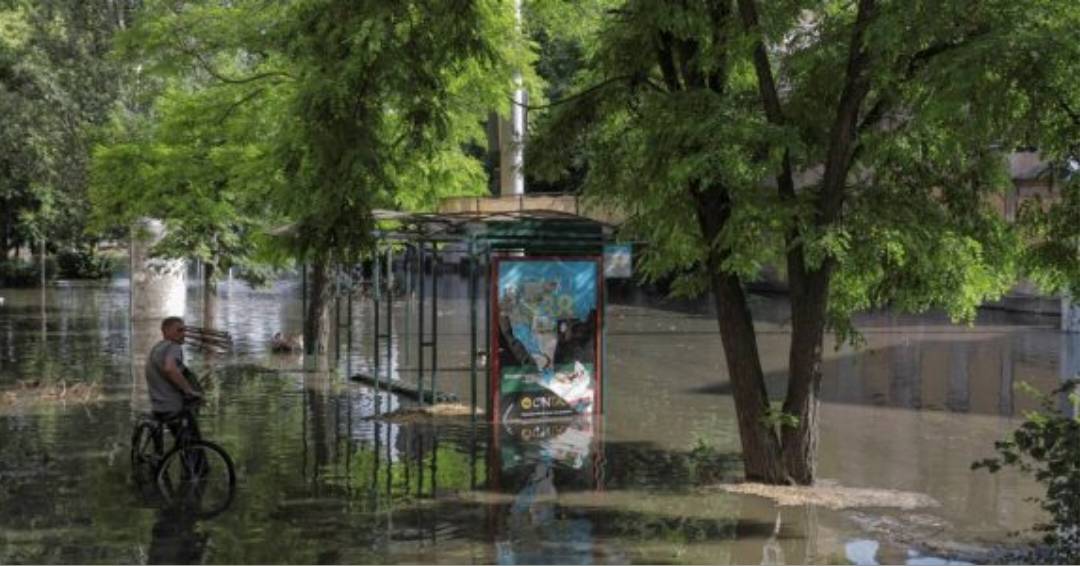 Ukraine President Volodymyr Zelenskiy characterized the bursting of the Kakhovka dam in southern Ukraine as a devastating "environmental bomb of mass destruction." He emphasized that only by liberating the entire country could they safeguard against future "terrorist" acts.
The collapse of the dam put approximately 42,000 people at risk in both Russian and Ukrainian controlled areas along the Dnipro River. The United Nations aid chief expressed concerns about the severe and wide-ranging consequences of the flooding. Ukraine and Russia traded blame for the dam's collapse, with Ukraine accusing Russia of a deliberate war crime, while the Kremlin claimed Ukraine was attempting to divert attention from their own counteroffensive.
Zelenskiy declared that the destruction would not deter Ukraine's determination to regain control of their land and ensure such attacks cease. The Kakhovka dam played a vital role in providing water to farmers, residents, and the Zaporizhzhia nuclear power plant, as well as supplying water to Russian-occupied Crimea. The UN aid chief warned that the breach would lead to significant losses in terms of homes, food, safe water, and livelihoods. Although no deaths were initially reported, the US spokesman believed there were likely numerous fatalities. With an estimated 42,000 people at risk, the flooding was expected to reach its peak on Wednesday.
The devastation forced residents to evacuate, wading through knee-high water, carrying their belongings and pets. Efforts were made to transport people to safety using buses, trains, and private vehicles in the affected communities. The situation remained precarious, as incoming artillery fire caused panic among those attempting to flee. Some individuals defied evacuation orders, staying behind despite the risks. Tragically, the flooding resulted in the complete loss of the Kazkova Dibrova zoo, including the lives of all 300 animals. The situation continued to worsen, with rising water levels and contaminated conditions.