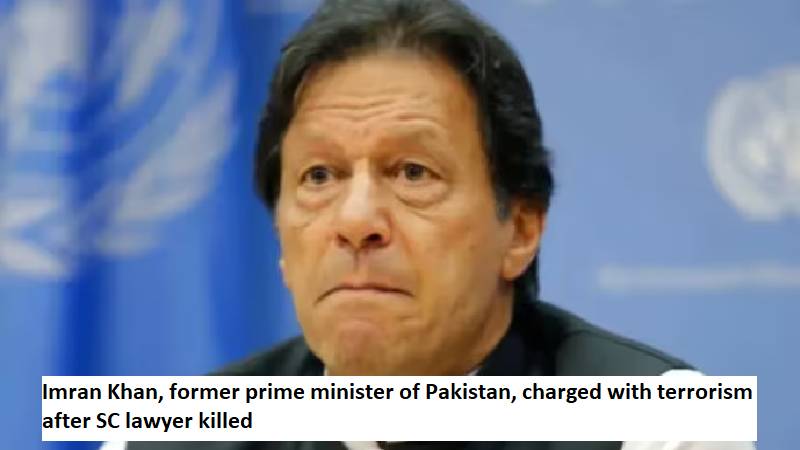 According to his party, Imran Khan, a former prime minister of Pakistan, has been charged with murder in the case of Supreme Court lawyer Advocate Abdul Razzaq Shar.
In Quetta, the capital of the Balochistan province, the lawyer was killed on Tuesday. He was shot and killed in a drive-by attack by unknown assailants while en route to the provincial high court. The deceased's son Siraj Ahmad claimed that Khan was responsible for the murder. Khan, the leader of the Pakistan Tehreek-e-Insaf (PTI) party, was the target of his FIR.
The 70-year-old was named in a FIR filed at the city's Shaheed Jamil Kakar police station, his party announced via WhatsApp the same day.
The complainant informed the police that his father had been receiving death threats since filing a complaint against Khan, according to a copy of the FIR that the party released. 'I named Imran Khan in the FIR because threats were being issued to my father at his behest,' he said.
The dead had filed a constitutional petition in the Balochistan High Court accusing Khan and former deputy speaker Qasim Suri of forcibly dissolving the National Assembly in April 2022.
The action was in explicit contravention of Article 6 and came after the combined opposition launched a no-trust resolution against the PTI government. If true, the accusations would constitute high treason.
Attaullah Tarar, a supporter of Prime Minister Shehbaz Sharif, agreed with the accusations made by Shar's son. Raoof Hassan, a spokesperson for the PTI, denied the assertion and then charged Rana Sanaullah, the interior minister, and Prime Minister Sharif with planning the murder.
Separately, a Pakistani court on Wednesday granted protective bail to former prime minister Imran Khan until June 21 following the filing of a new FIR accusing him of falsification in the sale of state items.
The Pakistani government filed a fraud and forgery complaint against Khan, his wife Bushra Bibi, and his close associates earlier that day for allegedly creating and submitting forged and false receipts for Toshakhana presents.