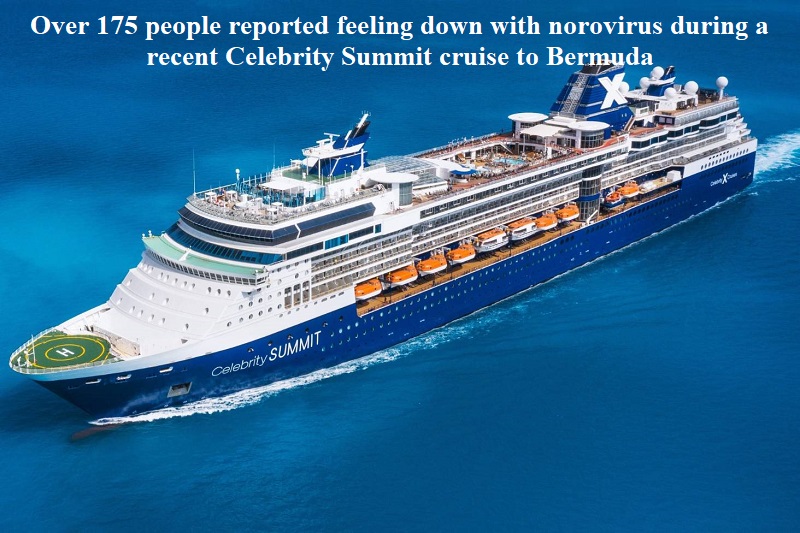 According to the Centers for Disease Control and Prevention (CDC), over 175 people fell ill with norovirus during a recent cruise on the Celebrity Summit to Bermuda. The outbreak occurred between May 15 and 25 and affected 152 passengers out of the 2,144 on board, as well as 25 crew members.
Affected individuals experienced symptoms such as diarrhea, abdominal cramps, vomiting, and headaches, as reported by the New York Post.
In response to the outbreak, the CDC stated that the Summit's crew increased cleaning and disinfection procedures according to the ship's outbreak prevention and response plan. They also informed current guests about the situation onboard and encouraged illness reporting and good hand hygiene. Stool specimens from gastrointestinal illness cases were collected and sent to the CDC laboratory.
A spokesperson from Celebrity Cruises emphasized that the health and safety of guests, crew, and the communities they visit are their top priority. They implemented rigorous safety and cleaning procedures that exceed public health guidelines, allowing them to maintain low levels of community spread.
The Celebrity Summit's round-trip journey began in Bayonne, New Jersey, and included stops in Bermuda, Charleston, South Carolina, Newport, Rhode Island, and Martha's Vineyard, Massachusetts.
In March, norovirus outbreaks were also reported on Celebrity's Equinox and Constellation ships. During the Equinox outbreak, 122 passengers and 14 crew members out of 2,579 reported symptoms of vomiting and diarrhea during a voyage from March 9 to 18. The Constellation outbreak affected 87 passengers and nine crew members out of 2,062 during a voyage from March 6 to 17.
The CDC states that norovirus outbreaks can occur at any time but are most common from November to April. Norovirus is the leading cause of vomiting, diarrhea, and foodborne illness in the United States, affecting people of all ages. It spreads easily and quickly.