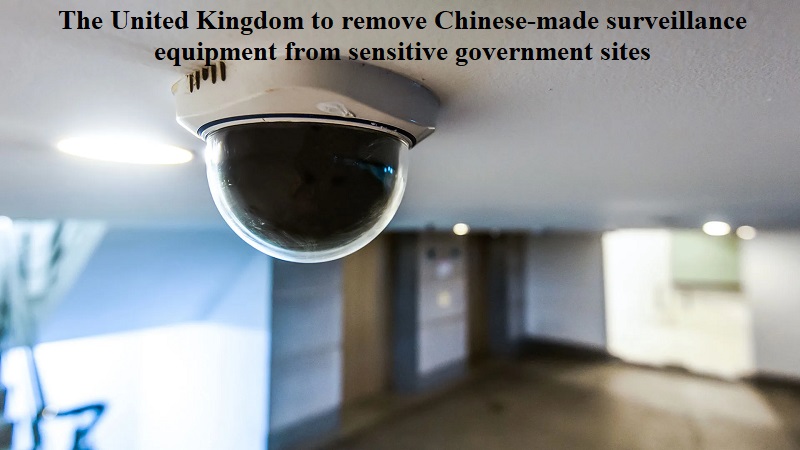 The UK government has announced its decision to remove surveillance equipment manufactured in China from sensitive government sites as part of its efforts to address national security concerns. The move was reported by Reuters on Thursday, June 8. In a statement, the government mentioned that it would also publish a timeline for the removal of surveillance equipment produced by companies that fall under China's National Intelligence Law from sensitive central government sites.
The government emphasized that this timeline demonstrates its commitment to ensuring the prompt removal of the equipment, without specifying the particular companies involved. In the previous year, UK departments were instructed to halt the installation of Chinese-linked surveillance cameras in sensitive buildings. Furthermore, British lawmakers had called for a ban on the sale and use of security cameras manufactured by Hikvision and Dahua, two Chinese firms that are partially state-owned. These calls for a ban were motivated by privacy concerns and suspicions regarding the companies' connection to human rights violations in China.
The Chinese government expressed its opposition to the UK's decision to remove the Chinese-made surveillance equipment. In a statement issued on Tuesday, a spokesperson from the Chinese Embassy in Britain criticized the UK for misinterpreting Chinese law and discriminating against Chinese companies. The spokesperson asserted that China always encourages its companies to engage in international investment and cooperation in compliance with market principles, international rules, and local laws. The Chinese government urged the UK to refrain from political manipulation and create a fair, just, and non-discriminatory environment for Chinese companies to operate normally in the UK.
Australia had also taken similar action earlier this year, removing numerous Chinese-made security cameras from politicians' offices. Over 250 Australian government buildings had installed at least 913 such cameras. The Australian government clarified that these CCTV cameras were not connected to the internet and were being removed as a precautionary measure.