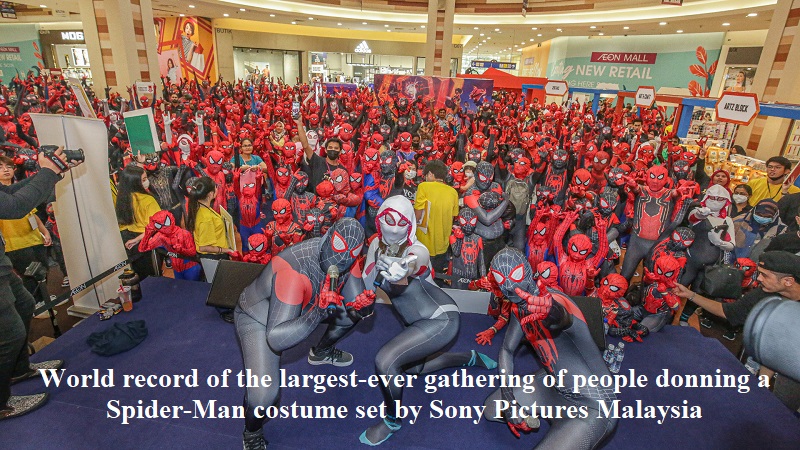 Sony Pictures Malaysia set a new world record for the largest gathering of people wearing Spider-Man costumes, with around 685 participants donning the iconic superhero attire at AEON Mall Bukit Tinggi on June 3. The record attempt was organized by Sony Pictures Entertainment Malaysia to celebrate the release of the new Spider-Man movie, "Across the Spider-Verse," which debuted on June 1, 2023.
According to the Guinness World Records website, Sony Pictures Malaysia and AEON Mall collaborated to organize the event, which aimed to commemorate the release of "Spider-Man: Across The Spider-Verse" in Malaysia.
A video capturing the record-breaking moment was shared on AEON Mall's Facebook page, expressing gratitude to the participants and celebrating their achievement of the Guinness World Record for the largest gathering in Spider-Man costumes. The video showcased individuals dressed as different versions of Spider-Man, with a group even recreating the popular Spider-Man meme featuring two characters pointing at each other.
In addition to posing for the camera, the participants, including children, were seen enjoying activities such as decorating Spider-Man-themed cupcakes during the event.
Previously, Sony Pictures India had set a similar record for the largest gathering of people wearing Spider-Man costumes in Mumbai on December 15, 2021. A total of 601 participants had assembled in Spider-Man attire to establish that record, coinciding with the release of "Spider-Man: No Way Home" in India.
"Spider-Man: Across the Spider-Verse" has been released in India in 10 languages, including Hindi, Tamil, Telugu, Kannada, Malayalam, Gujarati, Marathi, Punjabi, and Bengali. The movie has achieved tremendous success at the Indian box office, registering the biggest opening weekend for an animated film in the country thus far.
The upcoming sequel, "Spider-Man: Beyond the Spider-Verse," is scheduled for release in 2024. According to Deadline, the recently released movie garnered a whopping $209 million in its opening weekend. Building upon the events of its 2018 predecessor, "Spider-Man: Into the Spider-Verse," the sequel takes place in a shared multiverse and promises new adventurous missions, flashy visuals, and plenty of humor.