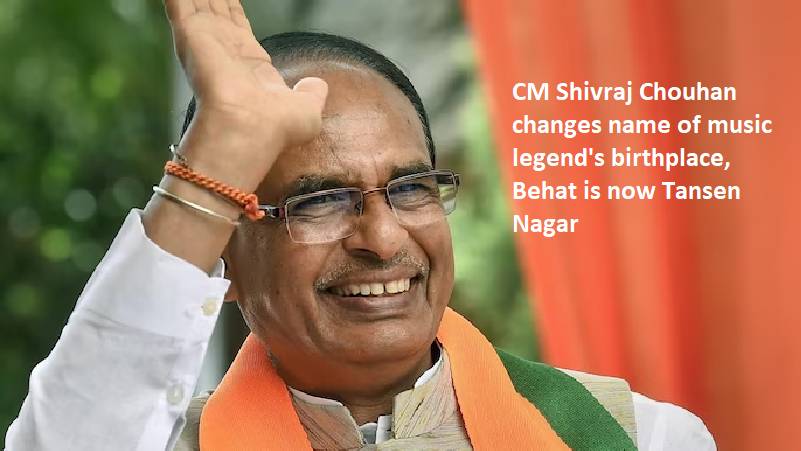 Tansen's birthplace has been given a new name by Shivraj Singh Chouhan, the chief minister of Madhya Pradesh. The birthplace, once called Behat, will now be referred to as Tansen Nagar.
At the groundbreaking for 101 crore rupees worth of construction projects, including the Tikautoli Micro-Irrigation project in Behat, CM Chouhan made the news.
People travel from far and wide to visit the birthplace of music legend Tansen, despite the fact that Behat village is regarded as a backward region. Shivraj Singh Chouhan, the current chief minister, recently listed it as a tourism attraction. In Behat village, the Madhya Pradesh Department of Culture hosts a world music festival each year. Musicians from all over the nation gather to this venue to play during this event.
In his speech to the audience, he explained that the state is currently going through a time of development alongside a social revolution with the goal of empowering the people economically.
The government has started the game-changing Ladli Behena Yojana in this aim. Narendra Singh Tomar, the Union Minister for Agriculture and Farmers' Welfare, oversaw the ceremony.
The CM also announced the opening of a college in Behat, a fund of Rs. 1 crore for the renovation of the Anjani Mata Temple, and a technical review for the rejuvenation of the Chandela Dam in this area.
The Guhisar road, which connects Bijauli, Gunda Hara, and Jignia, was named by Chief Minister Chouhan as something that should be done quickly. He added that attempts are being made to get clearance for suggestions the state government sent to the federal government to develop Bhadawana, Behat, Kashibaba, and Devgarh as tourism attractions.
Chief Minister Chouhan decorated the statue of music legend Tansen with flowers during the celebration.