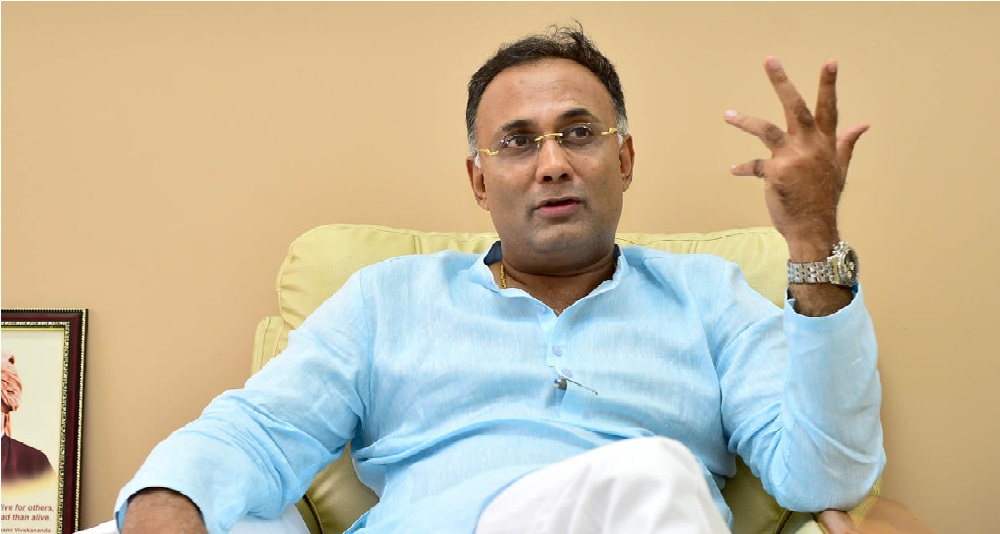 Bengaluru: Karnataka minister and Congress leader Dinesh Gundu Rao on Friday alleged that the previous BJP government had attempted to infuse their ideological issues into textbooks and his government will take 'corrective measures'. The minister also alleged that, under the previous government, a lot of state government properties had been given to institutions and organisations which are closely connected to the RSS and BJP.
Union Minister Rajeev Chandrasekhar has hit back at Gundu Rao's statements. 'I don't want to get into a debate. I seldom get into a debate with Congress because either they are lying through their teeth or they make no sense. So, Gundu Rao is in one of those categories. He should figure out which category', the Minister of State for Electronics and Technology said on the sidelines of an event in the national capital.
Speaking to ANI today, Karnataka health minister Gundu Rao said that the State Government plans to remove some lessons from textbooks introduced by the previous BJP government, including one on KB Hedgewar, the founder of the Rashtriya Swayamsevak Sangh (RSS). 'We should have stories about people who have really contributed to the building of the nation. If you talk about the freedom struggle, those who participated in the freedom struggle – history should reflect that, not your personal choices, not who you idolise. BJP has tried to infuse their ideological issues into textbooks, which is not correct. So, Congress party will have to look at it very seriously and take corrective measures', Gundu Rao said.
'Trying to guide a young person's mind towards a particular ideology is not good. Healthy education is most important', said Rao, in response to a question about alterations to the textbook curriculum. Responding to a question on his earlier remarks about properties being given to institutions linked to the RSS and the BJP he said, 'The matter will be looked into'. 'A lot of government properties have been handed over to many institutions belonging to the Sangh Parivar. So, we have to look at all those things, to see if they have been done properly, legally and what we can do on those issues', the former Karnataka Congress President said. 'But definitely, a lot of State Government properties have been given to institutions and organisations which are closely connected to the RSS and BJP', the Karnataka minister said.
Meanwhile, the Karnataka minister also said the State Government is planning to look into ways to improve the current system – things such as the ambulance service, dialysis service, and policy issues. On the recent loss of the BJP in the Karnataka Assembly elections, Gundu Rao said, 'People have voted them (BJP) out because of the way they performed. So it is now our chance. We should first deliver on our promises and show the people that we are committed'.