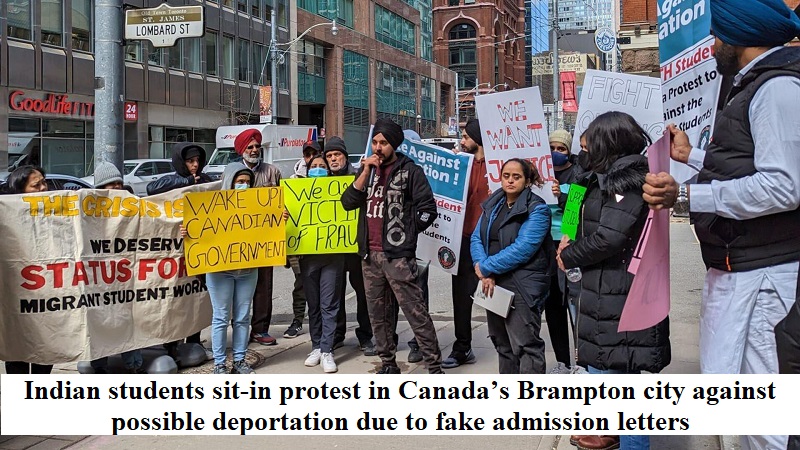 Since last week, a sit-in protest has been taking place in Brampton city, Canada, where hundreds of Indian students are demonstrating against potential deportation due to fake admission letters.
The majority of these students, around 700, are from the northwestern state of Punjab in India and are concerned about being expelled from Canada after Canadian authorities discovered that their "admission offer letters" to educational institutions were fraudulent.
The issue came to light in March when these students applied for permanent residency in Canada.
Since May 29, a number of Indian students have been engaged in an "indefinite sit-in" protest on Airport Road in Mississauga, outside the headquarters of the Canada Border Service Agency (CBSA).
Indian Foreign Minister Jaishankar expressed hope that the Canadian authorities would find a solution, emphasizing that the protesting students had been wronged by a fake travel agent.
According to a report by the Hindustan Times, these Indian students arrived in Canada between 2017 and 2019, with a few arriving in 2020.
In 2021 and the previous year, the students received notices from the CBSA after the agency discovered that their offer letters for admission to Canadian higher education institutions were fraudulent.
These false documents were issued by a travel agent based in Jalandhar, who reportedly charged more than Rs 1.6 million ($19,300) per student, as reported by PTI.
In response to the crisis, Punjab NRI Affairs Minister Kuldeep Dhaliwal urged India's External Affairs Minister S. Jaishankar to address the issue, stating that the students were innocent victims of fraudsters.
During a press briefing on Thursday, Jaishankar addressed the crisis by stating that it was unfair to punish students who acted in good faith and that those responsible for the fraud should be held accountable.
Canadian ministers and leaders have shown support for the protesting students. Brampton Mayor Patrick Brown joined the students on Tuesday and expressed his solidarity with them. He emphasized that students should not be victimized by fraudulent immigration consultants years after their arrival in Canada.
Several Canadian leaders and ministers have also visited the protest site to show their support for the Indian students.