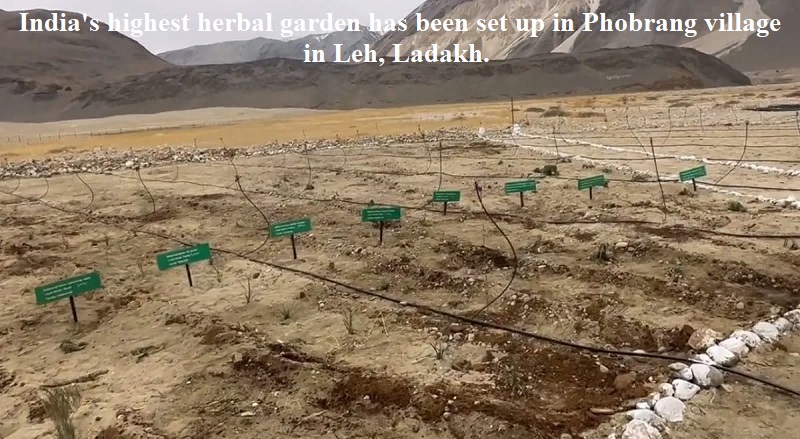 India's highest herbal garden has been established in Phobrang village in Leh, Ladakh, at an elevation of 15,000 feet above sea level, surpassing the previous record held by the herbal garden in Badrinath, Uttarakhand. Situated amidst the barren mountains of the Leh region, the garden has become a popular attraction.
The initiative to set up the herbal garden was led by Kyabgon Chetsang Rinpoche, a religious and spiritual leader and the founder and chairman of "Go Green Go Organic." Rinpoche's organization focuses on environmental and biodiversity conservation through large-scale plantations in Ladakh and other Himalayan regions.
The herbal garden is a collaborative effort between 'Go Green Go Organic' and the local authorities of the region, with significant support from Konchok Stanzin, the Councillor of the Chushul constituency and chairman of the High-Altitude Herbal Garden. The authorities believe that the garden will contribute to the well-being of the environment, ecology, biodiversity, and mankind.
Dr. Konchok Dorjey, the vice chairman of the herbal garden and an expert on medicinal plants in the region, explained the significance of the garden. It aims to preserve rare species, maintain the flora and ecological balance, and cultivate medicinal plants that hold cultural and religious importance, especially for Buddhists. These plants are essential for traditional treatments in Ladakh and Tibet and are typically found in higher altitudes.
The authorities in the Leh region take pride in having India's highest herbal garden and have plans to establish an advanced research center at the site. The garden is expected to serve as a valuable resource for future projects in the region.
Dr. Konchok Dorjey emphasized that the herbal garden is cared for by the people of the nearest village and is intended for research purposes. The plants chosen are perennial and capable of surviving extremely cold conditions, even as low as minus 30 degrees Celsius. They thrive within a temperature range of 20 to 25 degrees Celsius.
This ambitious project could be transformative for the coldest region of India, which has limited vegetation due to subzero temperatures. The establishment of the herbal garden opens up new possibilities for the growth and research of plants in the area.