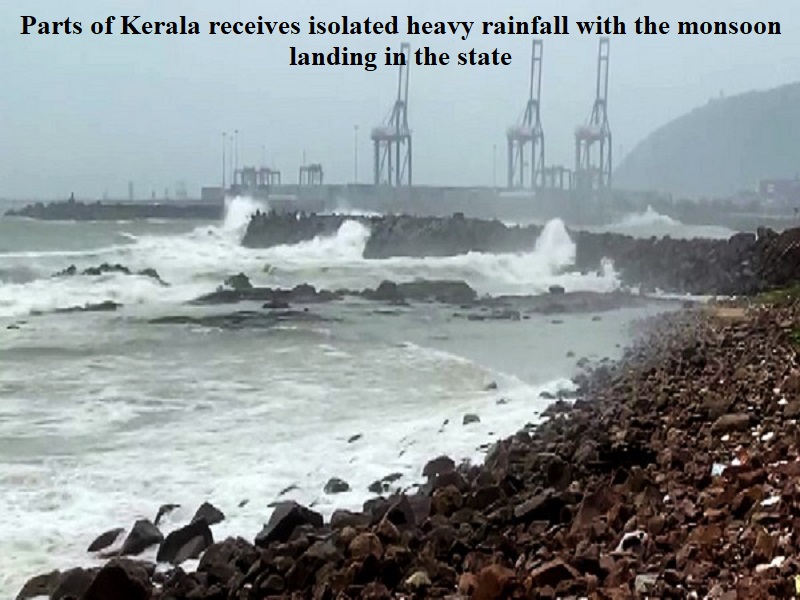 Following the arrival of the monsoon in Kerala on Thursday, certain parts of the state experienced localized heavy rainfall. The India Meteorological Department (IMD) issued a yellow alert in nine districts and an orange alert in one district.
The district of Kozhikode received an orange alert, indicating very heavy rainfall ranging from 6 cm to 20 cm. A yellow alert, denoting heavy rainfall between 6 and 11 cm, was issued in the other districts. The IMD had previously declared a one-week delay in the onset of the monsoon in Kerala.
Experts, however, believe that the delayed onset of the monsoon in Kerala is not a cause for concern, as such delays have occurred in the past. They expressed hope that the rainfall in the next 2-3 weeks would compensate for the initial deficit. Sekhar Lukose Kuriakose, Member Secretary of the Kerala State Disaster Management Authority (KSDMA), stated that it is still early in the monsoon season and the situation needs to be observed. He emphasized that the rain is expected to catch up and make up for the delayed onset.
Kuriakose added that the first orange alert was issued for Kozhikode after the monsoon was officially declared. The KSDMA released a statement mentioning the likelihood of thunderstorms, moderate rainfall, and gusty winds in various districts of Kerala.
Regarding the impact of Cyclone 'Biparjoy' in the Arabian Sea on the monsoon, Kuriakose stated that it may have affected the onset but is unlikely to significantly impact its intensity. In fact, the IMD has forecasted above-average rainfall for Kerala during this monsoon season.
Warnings have been issued to fishermen in coastal areas to refrain from venturing out to sea, and alerts related to thunderstorms and lightning have been issued in several districts since the monsoon's onset was announced.