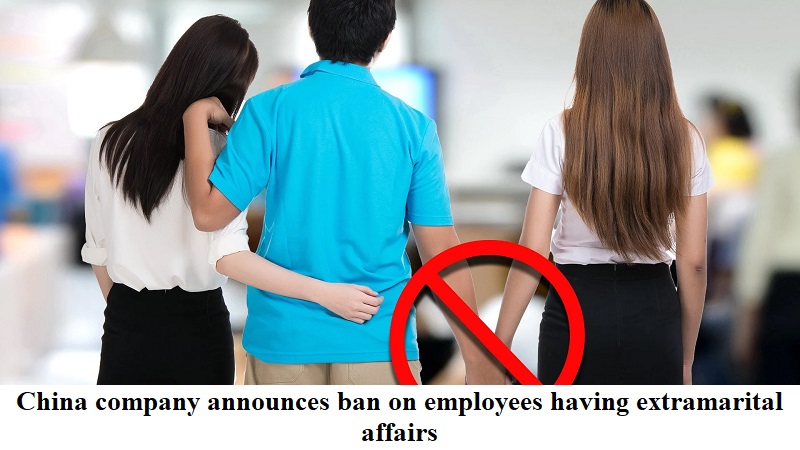 A company located in eastern China has recently stirred up a heated discussion on mainland China's social media platforms by implementing a ban on extramarital affairs for its employees. The ban applies to all married staff members and aims to promote loyalty to family and maintain a productive work environment, according to the SCMP media portal. However, concerns have been raised regarding the ban's legality, with legal experts suggesting that it may infringe on employees' rights.
The Zhejiang-based company, whose name has not been disclosed, issued an order on June 9 titled "extramarital affairs prohibition." The company's document stated that the ban was intended to enhance internal management, foster a corporate culture of marital loyalty, protect families, and improve work focus.
The prohibition specifically targeted married employees, explicitly forbidding behaviors such as extramarital affairs or maintaining mistresses. Violators would face termination, and the company emphasized the importance of holding correct values regarding love among its staff.
An anonymous staff member, as mentioned in the SCMP report, explained that the ban was implemented to encourage employees to maintain stable and harmonious families, which would enhance their ability to focus on work. The company believed that a harmonious family life contributes to increased productivity in the workplace. However, the specific catalyst behind implementing this extreme measure remains unclear, and it is unknown whether any workplace affairs involving staff influenced the decision.
Legal experts cited by SCMP have expressed doubts about the ban's legality. Lawyer Chen Dong from V&T Law Firm in Shanghai pointed out that, according to China's Labour Contract Law, employees can only be terminated if they are unable to fulfill their job responsibilities or if their capabilities no longer meet the requirements of their role.
Even if a company includes an affair ban in its employee manual, it cannot serve as a legitimate basis for terminating employees. If workers are dismissed based on these grounds, they have the right to seek legal protection, the lawyer explained.
The company's affair ban has generated a mixed response on mainland China's social media platforms. Some individuals expressed support for the ban, praising the company for taking a stand against extramarital affairs. They viewed it as a positive contribution to society, addressing what they perceive as a common issue. On the other hand, critics like prominent mainland blogger Zhou Kanjun criticized the ban as an infringement on personal freedoms and privacy. So far, the local municipal human resources and social security bureau, responsible for labor disputes, has not received any complaints regarding the ban.
The announcement of this affair ban follows a recent high-profile incident involving a senior executive at a state-owned oil company in China. The executive was captured on video holding hands with a woman who was not his wife, leading to his termination after the video went viral on mainland China's social media platforms.