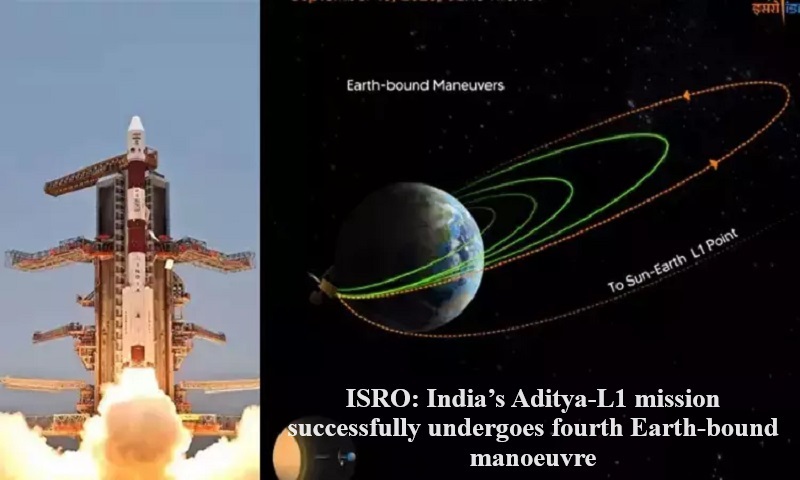 India's Aditya L1 mission, aimed at studying the Sun from space, achieved a significant milestone by completing its fourth Earth-bound manoeuvre, as announced by the Indian Space Research Organisation (ISRO). This manoeuvre is crucial in the mission's objective of placing the spacecraft in a halo orbit around the Lagrange Point 1 (L1) within the Sun-Earth system.
ISRO shared the successful completion of the fourth Earth-bound manoeuvre, referred to as EBN#4, via a post on its communication platform, X (formerly Twitter). The agency reported that its ground stations in Mauritius, Bengaluru, SDSC-SHAR, and Port Blair closely monitored the satellite during this operation. Additionally, a transportable terminal stationed in Fiji provided support for post-burn operations related to the Aditya-L1 mission.
Following this manoeuvre, the spacecraft attained a new orbit with dimensions of 256 km x 121,973 km, according to ISRO. The next significant step, the Trans-Lagrangean Point 1 Insertion (TL1I), which signifies the spacecraft's departure from Earth, is scheduled for September 19, 2023, around 02:00 Hrs. IST, as per ISRO's announcement.
Aditya-L1 is India's inaugural mission focused on studying the Sun and was launched on September 2 from the Second Launch Pad at the Satish Dhawan Space Centre (SDSC) in Sriharikota. The spacecraft has undergone three previous Earth-bound manoeuvres on September 3, 5, and 10, respectively, during its 16-day journey around Earth. These manoeuvres are necessary to impart the required velocity for the spacecraft's journey to the L1 point.
The L1 point, named after mathematician Joseph Louis Lagrange, holds immense significance for Sun observation as it offers a unique vantage point.
The mission carries seven scientific payloads, developed indigenously by ISRO and various national research laboratories, including the Indian Institute of Astrophysics (IIA) and the Inter-University Centre for Astronomy and Astrophysics (IUCAA) in Bengaluru and Pune, respectively. These payloads are designed to study various layers of the Sun, including the photosphere, chromosphere, and corona, using a range of detectors.
Four of the payloads will directly observe the Sun, while the remaining three will focus on in-situ studies of particles and fields at Lagrange point L1. This mission follows closely on the heels of ISRO's successful soft landing of the Chandrayaan-3 spacecraft near the lunar south pole, marking India as the first nation to achieve this feat.