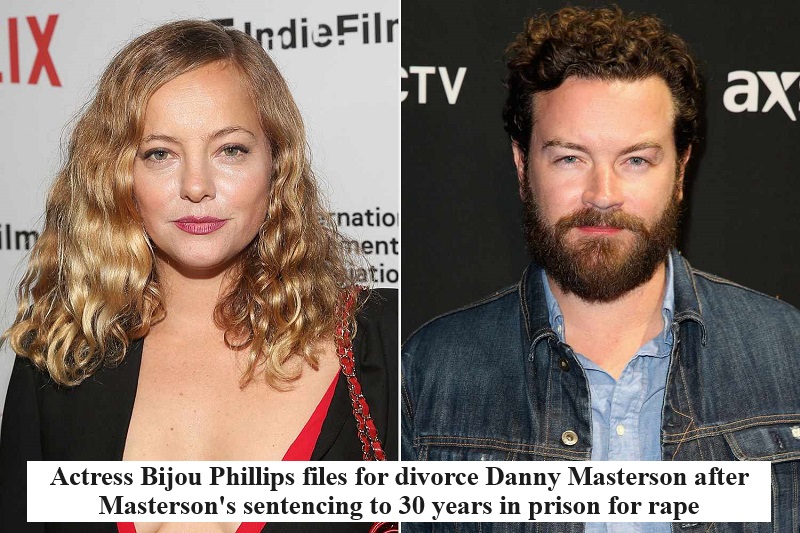 In an unexpected turn of events, actress and model Bijou Phillips has initiated divorce proceedings against actor Danny Masterson, shortly after Masterson was sentenced to 30 years in prison for the rape of two women in 2003. This divorce filing, submitted in Santa Barbara, has surprised many, as it was widely anticipated that Phillips would continue to stand by her husband throughout his legal battles.
Phillips' attorney, Peter Lauzon, released a statement to The Hollywood Reporter, revealing that Phillips made the decision to file for divorce during this challenging period. Her primary concern remains her daughter, and the strain of the legal proceedings has had a profound impact on their marriage and family life. Lauzon acknowledged that Masterson had been a source of support for Phillips during difficult times in her life and commended him as a devoted father to their daughter.
"Ms. Phillips has chosen to initiate divorce proceedings during this unfortunate time. Her foremost priority continues to be her daughter. The toll this period has taken on the marriage and the family has been unimaginable. Mr. Masterson has consistently been there for Ms. Phillips during the most challenging times of her life. Ms. Phillips acknowledges that Mr. Masterson is an exceptional father to their daughter," the statement conveyed.
Masterson's sentencing occurred on September 7, following his conviction for the rape of two women who were former members of the Church of Scientology. These incidents took place at Masterson's Hollywood Hills residence in the early 2000s. During the trial, the victims provided detailed accounts of the violent assaults, which transpired after they were served drinks that left them disoriented.
Despite his conviction, Masterson continues to deny the allegations, and his attorney, Shawn Holley, has announced intentions to appeal the verdict, citing significant evidentiary and constitutional issues. Masterson's potential eligibility for parole would come approximately 25 years from now when he reaches the age of 72.
Masterson and Phillips had been in a relationship for eight years before tying the knot in 2011 at a castle in Ireland. The couple welcomed a daughter in 2014 and also collaborated professionally in the independent film "Made for Each Other" in 2009, where they shared the screen with Danny's brother, actor Christopher Masterson.
The divorce announcement has caught many off guard, signifying a significant shift in the personal lives of both individuals, whose relationship had been closely followed by the public throughout Masterson's legal ordeal.