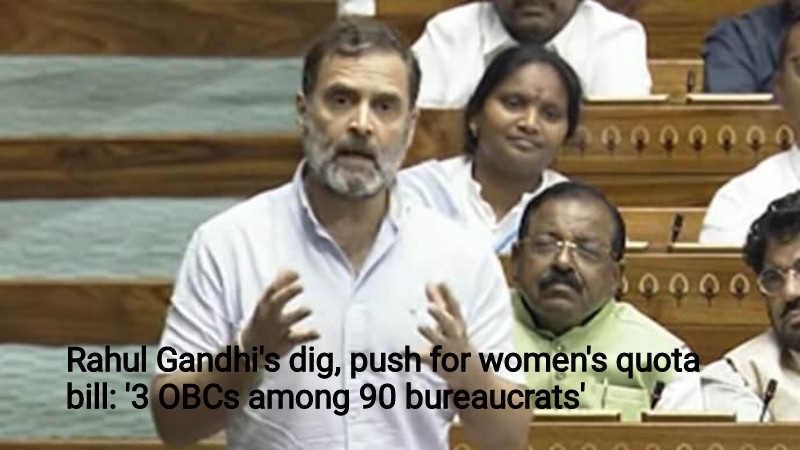 On Wednesday, Congressman Rahul Gandhi pressed for the release of the Caste Census data as well as a distinct quota for Other Backward Classes (OBCs) in the women's reservation bill.
Rahul stated, 'Daro mat, daro mat (don't be scared)' as he discussed the Caste Census. He stated that there are 90 government secretaries.
'I asked myself how many of these secretaries are from the OBC community, and was shocked and shattered to find out the answer. Only 3 of them are from the OBC community and only control 5% of India's budget,' Rahul said.
As a result of the controversy over his 'daro mat' statement, Lok Sabha Speaker Om Birla asked Rahul to refrain from using it. He was also reminded by the speaker that the topic at hand was the women's reservation law.
To this, Rahul said, 'This discussion is about women being a group of people of India and the OBCs being another group of people of India. The OBCs, who number a huge percentage, control and define 5% of India's budget. This is an insult and a shame to the OBC community.'
He questioned the number of OBCs, Dalits, and Adivasis in the nation and claimed that the Caste Census was the only way to know. He attacked the Centre, saying, 'The Bhartiya Janata Party tries to create a new distraction the moment the opposition raises the caste census.'
Rahul Gandhi pushed for an OBC quota in the women's reservation law, claiming that the measure was 'incomplete' without one.
Additionally, he claimed that when sessions were moved from the old to the new Parliament building, the President ought to have been invited.
'This is quite a nice building, nice peacock feathers on the ground and the chair. It is a nice, tasteful building. But frankly, I would have liked to see the President of India, who is a woman. She represents the tribal community. It would have been befitting to have her visible in this transfer from one house to the other,' Rahul said.