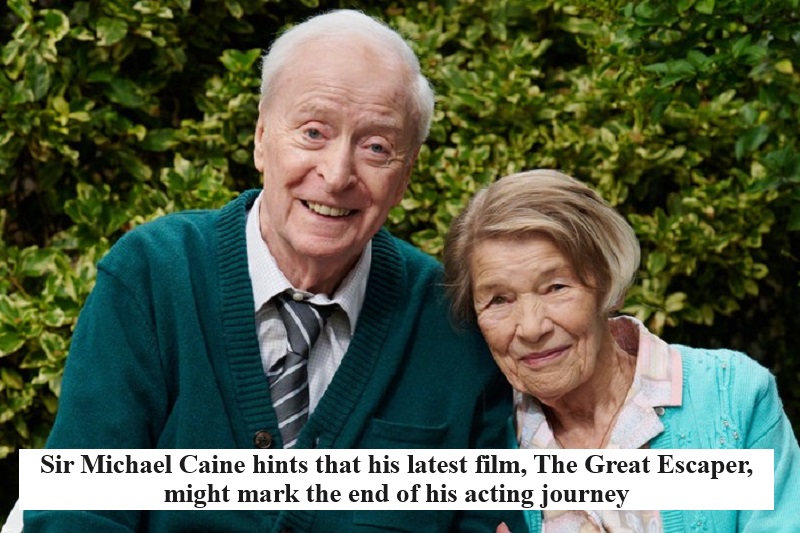 Sir Michael Caine, the legendary British actor with a career spanning eight remarkable decades, has dropped hints that his latest film, "The Great Escaper," may signify the culmination of his acting journey. At 90 years old, this announcement doesn't come as a surprise, given his astonishing record of over 160 movie credits.
In a conversation with The Telegraph, Sir Michael Caine expressed his delight and eagerness for his role in "The Great Escaper." He attributed his decision to participate in the project to his affection for the character Bernie and the exquisitely crafted script. The disruptive impact of the COVID-19 pandemic had kept him away from the silver screen for three years, leading him to contemplate the end of his acting career. Nevertheless, he embraced this final cinematic endeavor and relished the entire experience.
"I just loved the character of Bernie. I thought he was incredible, and it's so beautifully written. With Covid and all that, I hadn't done a picture for three years, and I thought I was finished. And I suddenly did it – and had such a wonderful time," he revealed.
"The Great Escaper" recounts the extraordinary story of Bernard Jordan, a British World War II veteran who, at the age of 89, made headlines by "escaping" from his nursing home to attend the 70th anniversary D-Day commemorations in France. The film delves into his wartime experiences and the unforgettable moment of his escape in 2014.
In his own words, Sir Michael Caine admitted, "I am bloody 90 now, and I can't walk properly and all that. I sort of am retired now. Anyway…"
It's worth noting that Sir Michael had previously stated in a Vanity Fair interview two years ago that "Best Sellers" (2021) would be his last film. However, he surprised everyone by appearing in two more films, "Medieval" and "The Great Escaper." This underscores the unpredictable nature of a genuine artist's passion. His future involvement in projects will be contingent on his physical condition and enthusiasm.
Whether or not "The Great Escaper" signifies the conclusion of Sir Michael Caine's acting career, he can retire with the satisfaction of knowing that he has left an indelible legacy in the entertainment industry. His body of work has not only entertained but also inspired countless actors and film enthusiasts across generations.