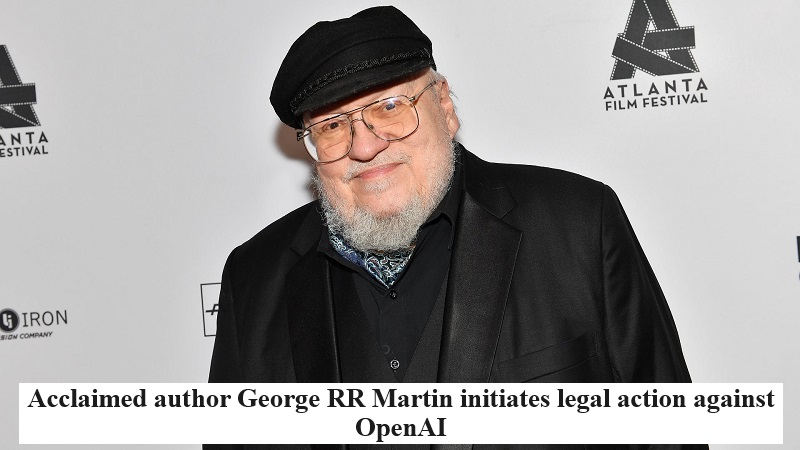 In a significant legal development that is likely to be a recurring theme in the current era, celebrated author George RR Martin and a consortium of well-known writers have initiated legal proceedings against OpenAI.
The lawsuit alleges a systematic infringement of copyright and has garnered substantial public attention. The primary complaint revolves around concerns that OpenAI's ChatGPT program and other AI advancements have been using their copyrighted materials without proper authorization.
Organized by the Authors Guild, the lawsuit brings together 17 authors, including John Grisham, Jodi Picoult, David Baldacci, Sylvia Day, Jonathan Franzen, and Elin Hilderbrand. These authors accuse OpenAI of engaging in what they describe as "systematic theft on a mass scale."
At the heart of the authors' grievance is the contention that OpenAI's AI systems are generating derivative works based on their original content, potentially diluting the value and uniqueness of their literary creations. The lawsuit cites specific instances where ChatGPT allegedly produced unauthorized outlines for derivative works, such as a prequel to George RR Martin's renowned series, A Song of Ice and Fire.
Mary Rasenberger, CEO of the Authors Guild, stressed the importance of safeguarding authors' creative efforts. She asserted that it is vital for authors to maintain control over how generative AI uses their works to preserve the integrity of literature and artistic expression.
Rasenberger stated, "It is imperative that we stop this theft in its tracks or we will destroy our incredible literary culture, which feeds many other creative industries in the US. Great books are generally written by those who spend their careers and, indeed, their lives, learning and perfecting their crafts. To preserve our literature, authors must have the ability to control if and how their works are used by generative AI."
OpenAI has not yet responded to the allegations raised in the lawsuit, leaving the tech industry and literary community awaiting their perspective on the matter.
This legal action follows a series of similar lawsuits by authors concerned about potential misuse of their intellectual property by AI systems. It underscores the ongoing tension between creative rights and the advancements in artificial intelligence.
Authors' concerns have already led to changes in industry policies. Amazon.com, the largest book retailer in the US, has adjusted its e-book policies in response to these concerns. They now require authors to notify them in advance if they intend to incorporate AI-generated content and have implemented restrictions to limit the proliferation of such texts.
The case has broader implications, sparking discussions about the concept of fair use in relation to AI-generated content and setting a potential legal precedent for future disputes in the rapidly evolving landscape of artificial intelligence and creative industries.