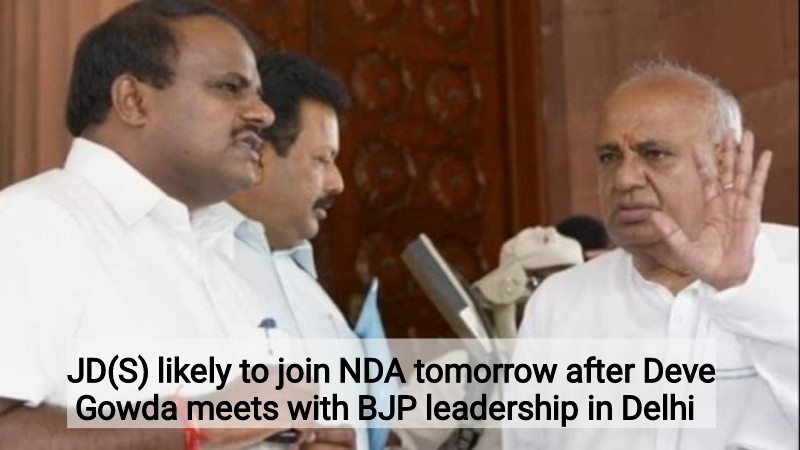 According to sources, HD Deve Gowda, a former prime minister and leader of the Janata Dal (Secular), and his son HD Kumaraswamy met BJP national president JP Nadda and Union Home Minister Amit Shah on Thursday in Parliament.
The purpose of the meeting was to talk about the planned alliance between the JD(S) and the BJP in Karnataka for the 2024 Lok Sabha elections. The leaders also talked about the general election seat-sharing formulas.
Tomorrow, Friday, Deve Gowda and Kumaraswamy are most likely to speak with Prime Minister Modi. According to sources, there will probably be an official announcement on JD(S)'s membership in the National Democratic Alliance (NDA).
Before departing for the capital, Kumaraswamy remarked, 'This evening there is a meeting; once we have the outcome of the meeting, tomorrow I will share everything openly with your Delhi correspondents.'
'Neither have we thought about it (seats) so far, nor have they (BJP) proposed anything in this regard. When we discuss in the evening, we will discuss in detail about the current situation in all 28 (Lok Sabha) seats, what was the situation in the earlier election and what is the situation after the 2023 Assembly polls,' he added.
Following remarks from senior BJP leader BS Yediyurappa, discussions for an alliance between the two parties have received increased attention. Yediyurappa had lately made it known that his party was thinking about reaching an agreement with the JD(S) in preparation for the next Lok Sabha elections.
According to this potential arrangement, the regional JD(S) would field candidates in four Lok Sabha seats out of Karnataka's total 28 constituencies.
However, Yediyurappa later clarified that these discussions had not yet reached a conclusive decision.
The BJP won 25 seats in the 2019 Lok Sabha elections, becoming it the state's most powerful party. In Mandya, an independent candidate who was backed by the BJP also won one of the seats. The JD(S) and Congress, on the other hand, each only succeeded in winning one seat.
The JD(S) and the Congress partnered up for the 2019 Lok Sabha elections. Under the direction of Chief Minister H.D. Kumaraswamy, Karnataka's coalition government at the time was jointly led by both parties.
Notably, the patriarch of the JD(S), who is also a Rajya Sabha MP, had previously said that his party would run unopposed in the Lok Sabha elections.