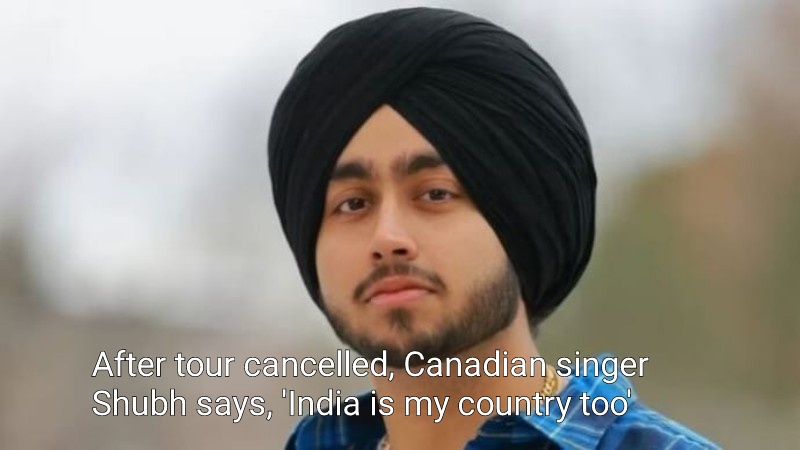 Shubh, a Punjabi artist from Canada, wrote on Instagram following the cancellation of his performances in India, 'India is my country too. I was created here. It is the country of my teachers and my forefathers.'
Shubh's performances in India were cancelled because to his backing for Khalistani organisations and his dissemination of an inaccurate map of the country.
The Canadian musician was facing strong backlash when it was claimed that he supported Khalistani elements in a previous social media post, which led to the cancellation of his concert in Mumbai. He has since been accused of being a Khalistani sympathiser.
Shubh wrote on Instagram that he was disappointed by recent incidents and added, 'As a young rapper-singer from Punjab, India, it was my life's desire to put my music on an international dais. I wanted to offer a few words to express my disappointment and grief because recent incidents have undone all of my hard work and progress. The cancellation of my Indian visit leaves me feeling quite disappointed.'
'I was highly amped up and enthusiastic to perform in my country, in front of my people. The preparations were in full swing and I was practicing with my heart and soul for the last two months. And I was very excited, happy, and ready to perform. But I guess destiny had some other plans,' he added.
He pleaded with the public not to label 'every Punjabi as a separatist or anti-national' in the same post.
'India is MY country too. I was born here. It is the land of my GURUS and my ANCESTORS, who didn't even blink an eye to make sacrifices for the freedom of this land, for its glory, and for the family. And Punjab is my soul, Punjab is in my blood. Whatever I am today, I am because of being a Punjabi. Punjabis do not need to give proof of patriotism. At every turn in history, Punjabis have sacrificed their lives for the freedom of this country. That's why it's my humble request to refrain from naming every Punjabi as a separatist or anti-national,' he continued.
The Canadian musician also provided an explanation of his motivations for posting the Instagram story that sparked such a harsh criticism.
'My intent in resharing that post on my story was only to Pray for Punjab as there were reports of electricity and internet shutdowns throughout the state. There was no other thought behind it and I definitely didn't intend to hurt anyone's sentiments. The accusations against me have deeply affected me. But as my guru has taught me 'Manas Ki Jaat Sabai Ekai Pachanbo' (All the human beings recognized as one and same) and taught me not to be afraid, not to be intimidated which is the origin of Punjabiyat. I will continue to work hard. My team and I will be back soon, bigger and stronger together. WAHEGURU MEHAR KARE SARBAT DA BHALA A,' he concluded.