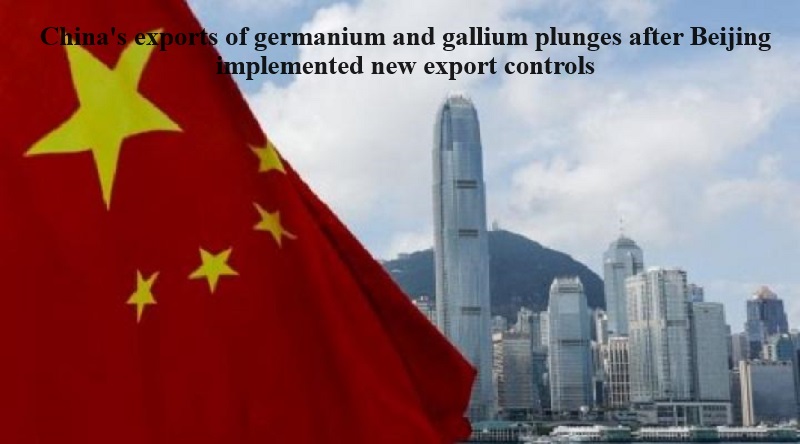 China's exports of germanium and gallium products in August saw a significant decline, as per customs data released on Wednesday, following Beijing's implementation of new export controls on these two metals essential for chip manufacturing.
In August, China did not export any wrought germanium products, in stark contrast to July when the country exported 8.63 metric tons. The surge in July exports was due to overseas buyers rushing to secure supplies before the export restrictions took effect.
Similarly, there were no exports of wrought gallium products in August, whereas July saw exports of 5.15 tons, and in the same month in 2022, the figure was 7.67 tons.
The drop in exports is a result of China's announcement in July to impose restrictions on the export of eight gallium and six germanium products starting from August 1. These measures were part of an ongoing dispute between Beijing and Washington over access to materials crucial for the production of advanced microchips.
Under the new regulations, exporters of germanium and gallium products must obtain an export license for dual-use items and technologies, meaning those with potential applications in both military and civilian sectors.
Obtaining these permits is a time-consuming process, with applications taking approximately 45 working days to process, according to industry sources. As a result, some exporters have had to halt shipments while waiting for permits to be issued.
In the customs data, under the category "germanium oxides and zirconium dioxide," exports of 1,034 tons were reported in August. However, it is unclear whether these shipments consisted solely of zirconium dioxide or also included some germanium oxide.
The export controls have had various effects on the prices of these metals. Chinese spot gallium prices decreased in August as domestic stocks grew due to the export controls and subdued demand. In contrast, the spot price of germanium ingot rose slightly during the month due to tightening supply.
Overall, China's exports of wrought germanium increased by 58% year-on-year in the first eight months of 2023, totaling 36.48 tons. Meanwhile, shipments of wrought gallium fell by 58% year-on-year to 22.72 tons over the same period from January to August.