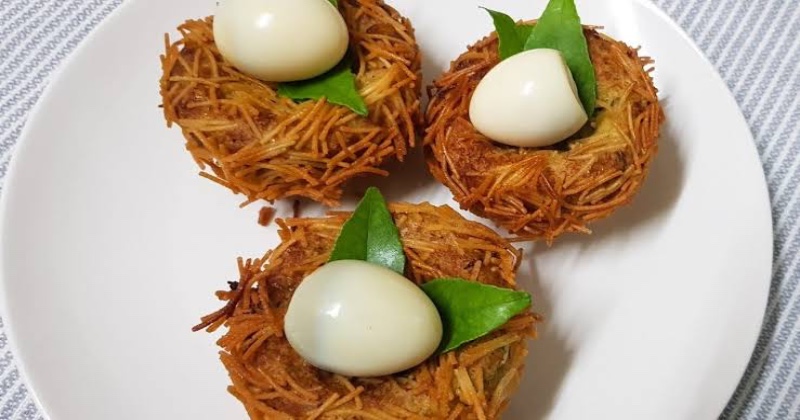 Kilikoodu (Bird's Nest) Snacks Recipe:
Ingredients:
– 1 cup Rice Flour
– 1/4 cup Roasted Gram Flour (Pottukadalai Flour)
– 1/4 cup Grated Coconut
– 2-3 Green Chilies, finely chopped
– 1/2 tsp Cumin Seeds
– A pinch of Asafoetida (Hing)
– Salt to taste
– Water as needed
– Oil for deep frying
Instructions:
1. In a mixing bowl, combine the rice flour, roasted gram flour, grated coconut, green chilies, cumin seeds, asafoetida, and salt.
2. Gradually add water and knead the mixture into a smooth, firm dough. The dough should be pliable but not too soft.
3. Take a small portion of the dough and shape it into small, cylindrical rolls resembling bird's nests. You can also shape them into small balls and flatten them slightly.
4. Heat oil in a deep frying pan over medium heat. Test the oil's temperature by dropping a small piece of dough into it; if it sizzles and rises to the surface, the oil is ready.
5. Carefully slide the shaped kilikoodu snacks into the hot oil. Fry them until they turn golden brown and crispy, turning occasionally to ensure even cooking.
6. Remove the fried snacks using a slotted spoon and place them on paper towels to drain excess oil.
7. Let them cool slightly before serving. Kilikoodu snacks are ready to enjoy as a crispy and delicious snack.
8. Store any leftover snacks in an airtight container once they have cooled completely to maintain their crispiness.
Enjoy your homemade kilikoodu snacks!