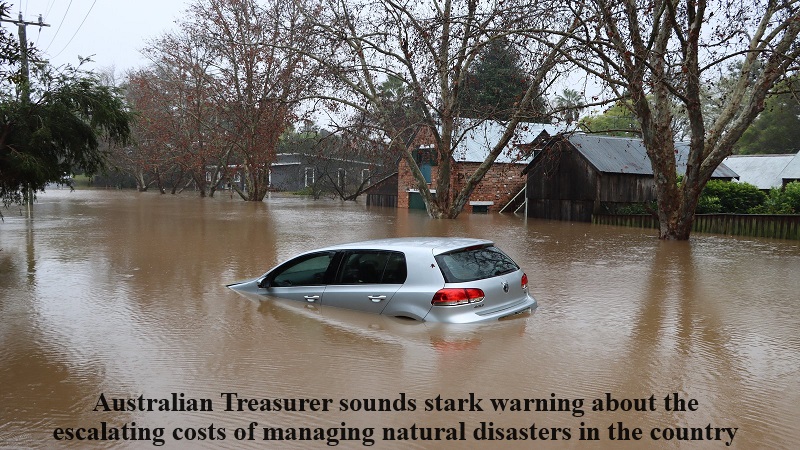 Australian Treasurer Jim Chalmers has issued a stark warning regarding the escalating costs associated with managing natural disasters in the country, which could potentially reach multi-billion dollar levels. Chalmers emphasized the urgency of addressing the financial implications of climate change, particularly as Australia faces the looming threat of a potentially devastating wildfire season driven by the El Nino phenomenon.
During a speech delivered in Rockhampton, Chalmers disclosed that government funding for disaster recovery has surged by a staggering 433 percent over the past three years, reaching Australian $2.5 billion ($1.6 billion) for the fiscal year ending on June 30. He underscored that "The pressure of a changing climate and more frequent natural disasters is constant, cascading, and cumulative."
Australia has experienced a series of catastrophic natural events in recent years, ranging from the Black Summer bushfires in 2019-20 to widespread rainfall and flooding in the east during 2021 and 2022. With the current El Nino weather system in the Pacific Ocean expected to bring high temperatures and reduced rainfall, authorities are now warning of an elevated risk of severe bushfires in the upcoming months.
Australia, despite being one of the countries most affected by climate change, has faced criticism for its perceived inaction in addressing the issue, particularly under the previous center-right government. The nation remains one of the world's highest per capita carbon emitters and a significant coal exporter.
Emergency Management Minister Murray Watt sought to reassure the public by stating that Australia is better prepared for the approaching bushfire season compared to 2019, noting that government funding for aerial firefighting has doubled since then. However, Chalmers cautioned that the economic toll of climate change is only just beginning to become clear, citing the Black Summer bushfires and the 2022 floods, each of which cost the Australian economy approximately Australian $1.5 billion ($962 million).
Furthermore, Chalmers highlighted the potential long-term economic impacts, stating, "If further action isn't taken, Australian crop yields could be 4 percent lower by 2063, costing us about Australian $1.8 billion ($1.1 billion) in GDP in today's dollars." As Australia grapples with the mounting financial burden of climate-related disasters, there is a growing call for proactive measures to mitigate the impacts of climate change on the country's economy.