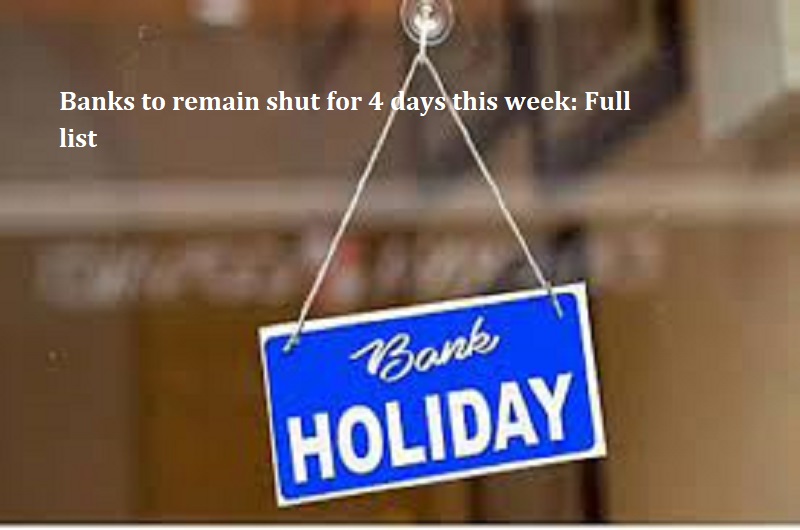 Mumbai: Banks in several parts of the country will remain closed for four days this week owing to various festivities and regional holidays. As per the holiday list shared by the Reserve Bank of India, bank holidays will vary from state to state. In total, the month of September had 16 Bank holidays including Sundays and second and fourth Saturday.
The Reserve Bank of India has out the bank holidays under three brackets — Holiday under Negotiable Instruments Act; Holiday under Negotiable Instruments Act and Real Time Gross Settlement Holiday; and Banks' Closing of Accounts.
Also Read: IMD predicts heavy to very heavy rainfall in these states till September 28
List Of Bank Holidays In September 2023:
September 25: Janmotsav of Srimanta Sankardeva (Banks will remain closed in Assam)
September 27: Milad-i-Sherif (Birthday of Prophet Muhammed) (Banks will remain closed in Jammu and Kerala)
September 28: Eid-E-Milad/Eid-e-Meeladunnabi – (Prophet Mohammad's Birthday) (Bara Vafat) Banks will be closed in Gujarat, Mizoram, Maharashtra, Karnataka, Tamil Nadu, Uttarakhand, Telangana, Manipur, Uttara Pradesh, New Delhi, Chhattisgarh and Jharkhand.
September 29: Indrajatra/Friday following Eid-i-Milad-ul-Nabi (Banks will remain closed in Sikkim, and Jammu and Srinagar.)