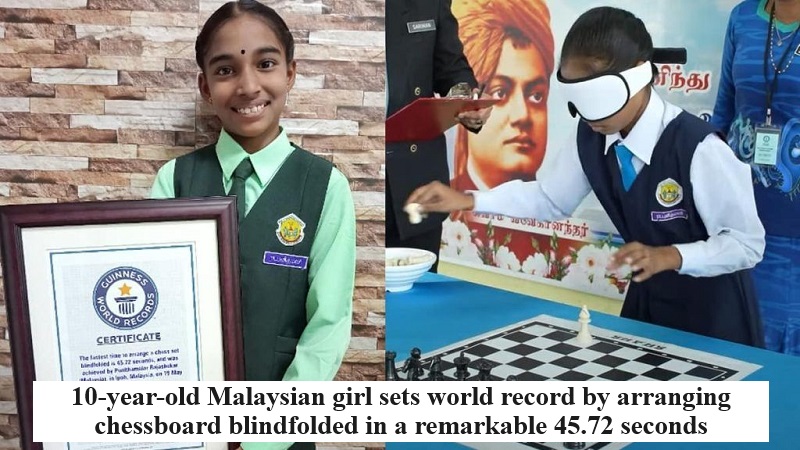 Punithamalar Rajashekar, a 10-year-old girl from Malaysia, achieved an incredible feat by setting a Guinness World Record for the "fastest time to arrange a chess set blindfolded." Her inspiration to attempt this record came from watching a documentary showcasing remarkable human achievements.
Guinness World Records posted a video of Rajashekar's achievement on its YouTube channel, capturing the moment when she put on a blindfold amid applause from the audience.
Upon the call of "ready, set, and go," she began arranging the chess pieces with precision, first placing all the black pieces before moving on to position the white ones. As she completed the task, she raised her hands and declared, "Stop."
An excited Rajashekar expressed, "Seeing people push their limits and accomplish incredible feats really inspired me. […] I was particularly drawn to the idea of setting a personal goal and pushing myself beyond my limits, and attempting a world record seemed like the perfect way to do that."
Her journey towards this remarkable achievement began four months before the actual attempt, with the unwavering support of her father and the continuous encouragement and motivation from her family and teachers.
In addition to her Guinness World Record, Rajashekar has received numerous accolades, including the prestigious Asia's Outstanding Child Award for the 2022-2023 year. Her exceptional abilities have been showcased in various contests, including Malaysia's Kids Got Talent.
Meanwhile, Indian chess prodigy R Praggnanandhaa, despite not winning the World Cup title, has made a significant impact on India's chess scene. The young Indian grandmaster secured the runner-up position in a tie-breaker round, ultimately losing to the world's top-ranked player, Magnus Carlsen, following two previous draws. Indian Prime Minister Narendra Modi congratulated him for his "remarkable" performance and for putting up a "tough fight."