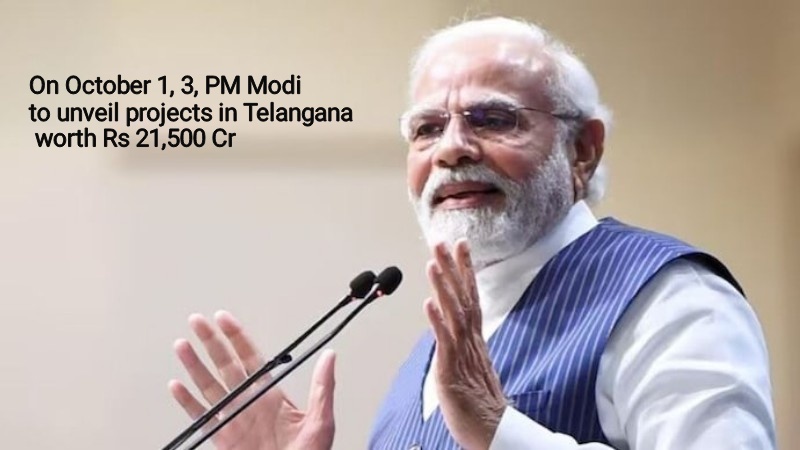 On October 1 and 3, during his visit to Mahabubnagar and Nizamabad in Telangana, Prime Minister Narendra Modi will dedicate or lay the cornerstone for a number of projects totaling Rs 21,566 crore.
In a press conference, Reddy stated that Modi would inaugurate projects worth Rs 8,021 crore in Nizamabad while launching projects worth Rs 13,545 crore in Mahabubnagar.
After kicking off the projects, Modi will give speeches at public gatherings at both locations.
Reddy, who is also the head of the Telangana BJP, stated that the Centre had spent Rs 9 lakh crore on various infrastructure projects during the last nine years since Modi became prime minister.
He claimed that the Telangana state's failure to provide the necessary land was a result of the laxity of the BRS government, which is currently in power.
Attacking the BRS, the BJP representative claimed that it is absurd that the Women's Reservation Bill is being discussed by the Chief Minister K Chandrasekhar Rao's administration, which did not have a single female minister during its previous term.
He denied the BRS leaders' claims that the Centre would install metres on agricultural pump sets, noting that the union electricity minister had already made it clear that such a step was not being made.
Santi Kumari, the chief secretary of Telangana, reviewed PM Modi's visit to Nizamabad on October 3 with senior officials on Friday.
On that day, an 800 megawatt power project developed by NTPC would essentially be inaugurated by Modi, according to a formal statement.