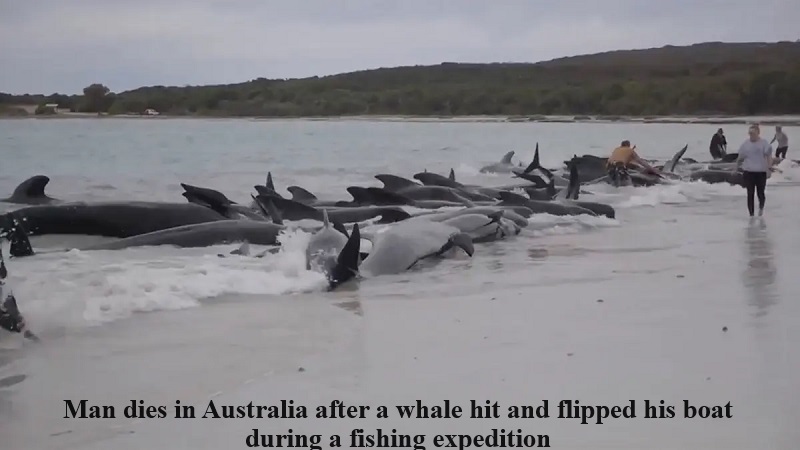 During a fishing expedition in Australia, a man tragically lost his life when a whale struck and overturned his boat, leaving another person hospitalized. The incident occurred in Botany Bay off Sydney, where the 61-year-old man was found unconscious and later pronounced dead, while the 53-year-old skipper, who was also on the boat, remained stable and under medical care in a hospital.
New South Wales Police Minister Yasmin Catley described the event as "terribly tragic," given the unexpected involvement of a whale.
The incident was initially noticed by people on a second boat, who spotted the distressed 4.8-meter vessel and promptly alerted authorities. Police later stated that the boat likely collided with or was impacted by a breaching whale, causing it to tilt and eject both men into the water.
Deaths caused by whales are exceedingly rare, making this occurrence especially shocking. Australia's coastline is renowned for being home to various large and small whale species, and instances of whales breaching near boats are relatively common.
Water Police Acting Superintendent Siobhan Munro mentioned that the men might have been in the water for approximately 45 minutes before they were located and rescued.
To prevent such incidents, New South Wales Maritime executive director Mark Hutchings emphasized safety guidelines, advising people to maintain a minimum distance of 100 meters from adult whales and 300 meters if a whale is accompanied by a calf or baby whale. Hutchings stressed that whales do not pose a threat to humans but that interactions can occasionally lead to accidents.
A similar incident occurred in June, when eight Danish individuals were rescued after their sailboat capsized in the Pacific Ocean following a collision with one or two whales.