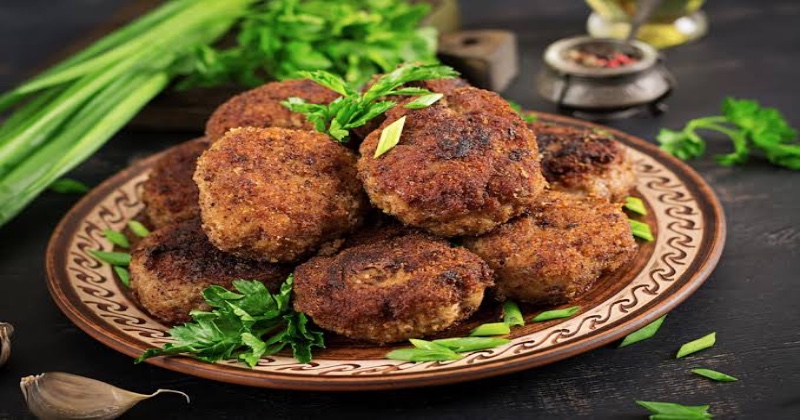 Here's a simple vegetable cutlet recipe:
Ingredients:
1. 2 cups boiled and mashed vegetables (potatoes, carrots, peas, and beans)
2. 1/2 cup breadcrumbs
3. 1/4 cup finely chopped onions
4. 2-3 green chilies, finely chopped (adjust to your spice preference)
5. 1/2 teaspoon ginger-garlic paste
6. 1/2 teaspoon red chili powder
7. 1/2 teaspoon garam masala
8. Salt to taste
9. 2 tablespoons chopped coriander leaves
10. 1/4 cup cornflour or all-purpose flour
11. Cooking oil for frying
Instructions:
1. In a mixing bowl, combine the boiled and mashed vegetables, finely chopped onions, green chilies, ginger-garlic paste, red chili powder, garam masala, salt, and chopped coriander leaves. Mix well.
2. Divide the mixture into small portions and shape them into round or oval cutlets. You can make them as thick or thin as you like.
3. In a separate bowl, prepare a slurry by mixing cornflour or all-purpose flour with water. It should have a smooth, thick consistency.
4. Dip each cutlet in the slurry to coat it evenly, allowing any excess to drip off.
5. Roll the cutlet in breadcrumbs, ensuring it's coated well.
6. Heat oil in a frying pan or skillet over medium heat. Once the oil is hot, carefully place the cutlets into the hot oil.
7. Fry the cutlets until they turn golden brown and crispy on both sides. This may take 2-3 minutes per side.
8. Remove the cutlets from the oil and place them on paper towels to remove excess oil.
9. Serve the vegetable cutlets hot with ketchup, chutney, or as desired.
Enjoy your homemade vegetable cutlets as a tasty snack or appetizer!