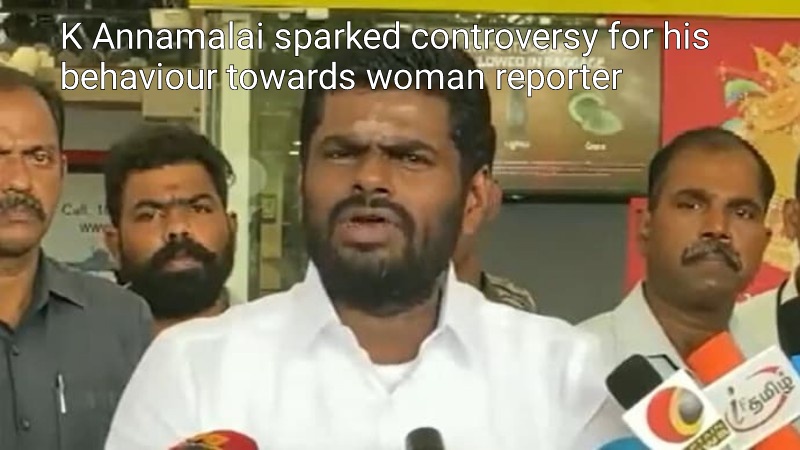 K Annamalai, the president of the Tamil Nadu BJP, has drawn harsh criticism from the media for his behavior toward a female reporter who asked him a question.
When asked if he would still be a part of the BJP if he weren't the state unit president, Annamalai snapped at the camera and told her to stand next to him so that everyone could see who had posed the question.
'Come and stand next to me. Let the people see through TV as to who asked me such a question. There is a way to ask questions. Eight crore people should know the person who asked such a brilliant question,' the BJP leader said.
He insisted on having the female reporter stand in front of the cameras frequently, which other journalists objected to. 'I don't work as a politician full-time. My identification is as a farmer, followed by a politician, and finally as a member of the BJP,' he stated.
After appearing to back off, Annamalai clarified that he was merely counseling the reporter to pose appropriate questions. The BJP leader replied, 'I'm advising you sister with good intentions.'
The Coimbatore Press Club vehemently disapproved of Annamalai's behavior.
'Annamalai should learn the ethics of being a leader and act honorably before trying to lecture media ethics. According to AR Babu, president of the Coimbatore Press Club,' journalism serves as a conduit between the public and those in public life.
Lakshmi Ramachandran, a member of the Tamil Nadu Congress, posted the following on X (formerly Twitter): 'I have not seen such arrogance in anybody…not even in Ms. Jayalalithaa, Mr. Modi, or Mr. Shah. This man feels he is God's gift to humans!'
Can any politician in Tamil Nadu, such as the governor or Mr. Edappadi Palaniswami, get away with speaking to a female journalist in such a way? She inquired.