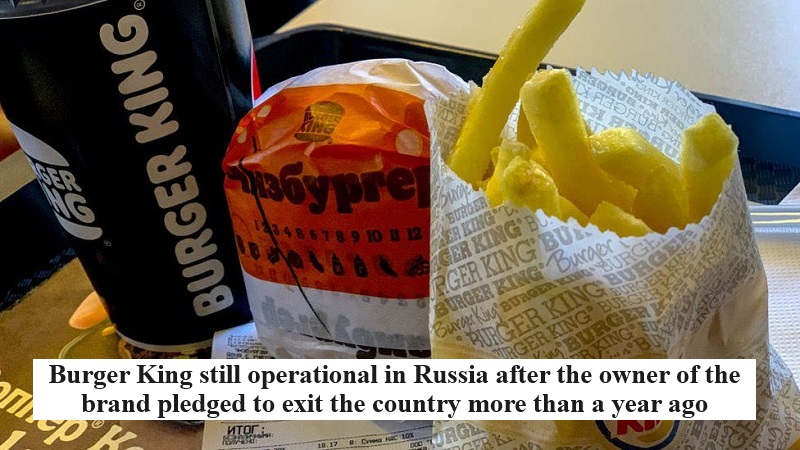 Burger King is still in operation in Russia despite the owner of the brand announcing over a year ago its intention to exit the country.
Restaurant Brands International (RBI), which owns 15 percent of the franchise business of Burger King in Russia, informed the BBC that it had "no new updates to share at this time" regarding its exit plans. In March 2022, RBI had stated that the process for leaving Russia had begun.
Since the outbreak of the Russia-Ukraine war, Western companies have faced pressure to withdraw from Russia. Critics accused RBI of "sustaining Putin's regime" by maintaining its stake in its Russian business.
RBI, one of the world's largest fast-food restaurant companies, has cited its complex franchise agreement as a major obstacle to exiting Russia. This agreement is a joint venture involving three other partners and encompasses approximately 800 restaurants.
In March 2022, RBI's President, David Shear, stated that the primary operator of Burger King in Russia had "refused" to close the outlets after the initial attacks on Ukraine. However, he mentioned that the company had initiated the process of divesting its 15 percent ownership stake, which would take some time.
Despite 18 months passing since the pledge to exit Russia, there has been little to no progress. A spokesperson for the Canadian-American company stated that they had no updates on their efforts.
Steven Tian, a researcher at Yale University tracking companies' actions in response to the Ukraine war, criticized RBI for using franchise agreements as an "excuse" and called it a "convenient smokescreen." He pointed out that companies like Starbucks had managed to terminate their agreements in Russia and exit the market.
By continuing to do business in Russia 18 months into Putin's invasion of Ukraine, RBI is accused of sustaining Putin's regime. The RBI spokesperson countered that the company was not accepting supply chain support or new investments and had not generated profits from Burger King in Russia since early 2022.
Mark Dixon, founder of the Moral Rating Agency, called on RBI to disclose specific actions taken in its exit efforts. He urged the company to be willing to break its agreement and accept the legal risks associated with doing the right thing.