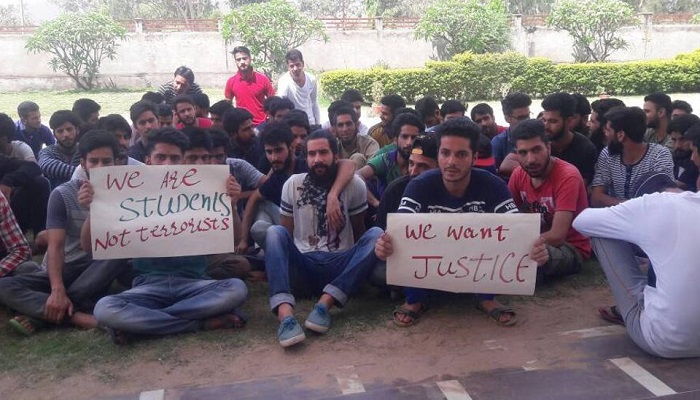 A group of Kashmiri students from Mewar University were allegedly assaulted by locals in Rajasthan's Chittorgarh on Wednesday.
The incident took place around 5 pm on Wednesday when 11 students, all living in the varsity hostel, had stepped out of the campus.
According to the students, the locals said "they should be beaten up because Kashmiris throw stones at CRPF men."
While the students claim that they were badly assaulted, with two from the group seriously injured, the university officials and police are terming it a "minor scuffle". No FIR was registered after the scuffle.
Registering their protest after the incident, around 200 Kashmiri students from Mewar University have been on a hunger strike since Wednesday evening.
"When we left the university campus, a few locals surrounded us and inquired about our regional identity. Whoever said they were from Kashmir was beaten up. Two students were hospitalised. We approached the police, but no action has been taken against the locals," said Tawfeef Ahmad, one of the students assaulted in the scuffle.
Ahmad said harassment of Kashmiri students is not a one-off incident. "We want university officials to take action," he added.
Harish Gurnani, Director, Mewar University, said, "It was a minor issue. Normalcy has been restored."
Meanwhile, there are reports of posters being put up in Meerut asking Kashmiri students to leave UP, while also blaming them for the attack on security forces.