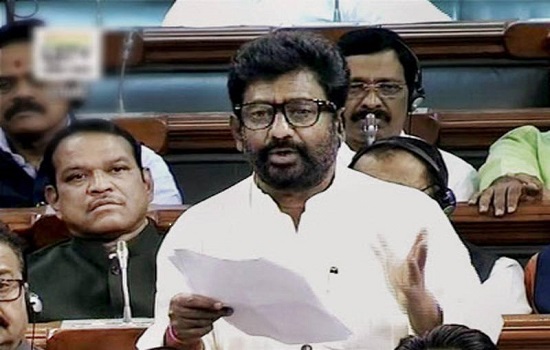 Infamous Shiv Sena MP Ravindra Gaikwad always known to cause trouble, caused a new commotion where he allegedly engaged in a verbal spat with cops for non-functioning of ATMs.
Shiv Sena MP Ravindra Gaikwad allegedly had a heated argument with cops over "non-functioning" of ATMs at Latur in Marathwada region, police said. Videos of the alleged heated argument between Gaikwad, his supporters and police personnel at Latur in Marathwada region, have gone viral on social media.
In the visuals, Gaikwad is purportedly seen arguing with a police officer, during a protest over non-functioning ATMs at Latur. The Lok Sabha member from adjoining Osmanabad constituency, Gaikwad, who reached Latur on Tuesday, had sent his aide to withdraw money from an ATM at Latur.
However, the aide returned empty-handed, saying the ATM had run out of cash. This happened with a few other ATMs, prompting the Sena MP to go out and stage a protest with his supporters outside an ATM. When policemen arrived and requested Gaikwad to discontinue his protest as it was hampering the vehicular traffic, the Sena MP allegedly shouted at them, police said.
Giving his version of the incident, Gaikwad said, "There is no money in the ATMs for the last 15 days. What should we do?
They (the BJP-led government) asked us to give them 50 days (after demonetisation, for normalisation of financial transactions). We gave them 100 days, then 200 days. It is the job of the (Union) Finance Minister and the Finance Minister of Maharashtra. It is also the job of the Guardian Minister of Latur district to rectify the situation."