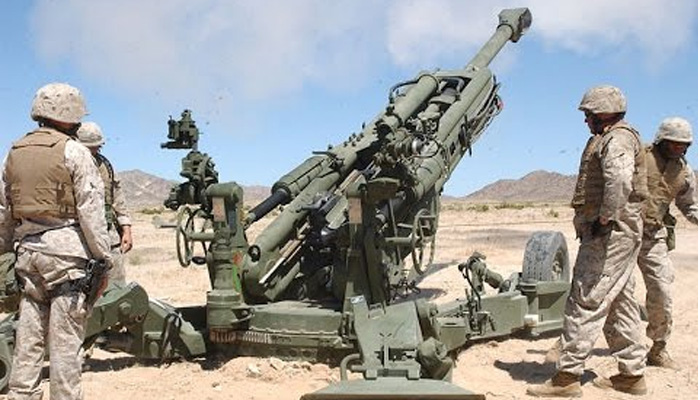 The Army will get its first made in India self-propelled howitzers next year. Larsen & Toubro has signed a deal with Hanwha Techwin of South Korea to jointly manufacture guns urgently required to maintain a conventional edge over Pakistan.
L&T on Friday announced a contract with the Korean defence firm to execute an order for 100 'K 9 Vajra T' howitzers by the Army. The order is worth Rs 4,500 crore for the first batch, with additional numbers likely to be added over the next few years to meet the requirements for a fast moving, mobile artillery gun on the border.
While the first 10 howitzers will be made at the engineering conglomerate's plant in Talegaon near Pune, the remaining would be manufactured at a greenfield facility in Hazira, Gujarat, officials said.
"We have initiated setting up of a greenfield manufacturing line. This will include a test track to produce, test and qualify the guns," said Jayant Patil, head of defence and aerospace at L&T.
The gun will have over 50% indigenous content, he said.
L&T is looking at a long-term partnership with Hanwha Techwin, which could lead to larger collaboration on land-based military systems to tap the growing Indian market, officials said.
A larger collaboration between the two companies could include future orders from the Army for mobile air defence systems and similar artillery requirements.
The two companies are also looking at an overseas market for the K 9 Vajra T that has been specially modified for Indian conditions. Potential clients include nations in the Middle East that have similar requirements.
As reported by ET in June last year, the ministry of defence concluded negotiations with Larsen & Toubro for the new mobile artillery guns that will be deployed along the western border to take on a Pakistani battlefield edge on the back of artillery guns supplied by the US. In 2009, Pakistan had acquired 115 of the US supplied M 109A5 cannons as a 'reward' for its assistance on the war on the Afghanistan border.
The Indian Army has been trying for long to acquire the artillery systems to counter Pakistan.
The Vajra — being highly mobile as it can move at speeds of over 60 km per hour — can be used at different points at a battlefield, delivering a punishing eight rounds a minute into enemy territory. It can traverse up to 450 km on its own, giving it devastating force multiplier ability.