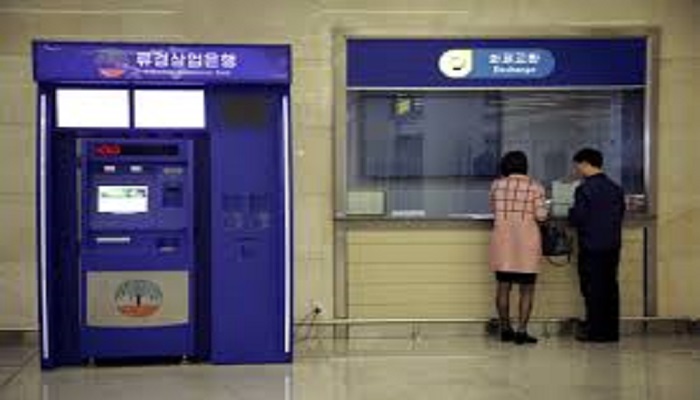 ATMs are an alien enough concept in North Korea. Hence the two ATMS which are installed in the capital city of Pyongyang's new Sunan International Airport.
These ATMs have a video screen near the top showing how they work and how to set up an account to use them. The explanatory video is in Korean, but the machines, which are meant primarily for Chinese businesspeople and tourists, don't give out cash in the North Korean currency.
ATMs are not entirely new to the North.
Years ago, the Ryugyong Commercial Bank installed one in a midrange tourist hotel in central Pyongyang frequented by Chinese. Another ATM was spotted at the airport last year, but it never appeared to be turned on. Additionally, customers who flash the bank's gold or silver ATM cards at two upscale stores that sell a wide array of imported foods and luxury items qualify for discounts.
It is still in doubt that what extend are these ATMs functional.
Booking office employees said the ATMs at the airport's international terminal were installed a few months ago but are still in a "test phase." According to tellers at the bank's small office in the hotel where it has its other ATM, none of the machines are working because of Chinese sanctions that they said kicked in last month.
The Ryugyong Commercial Bank isn't a very well-known entity outside of North Korea. According to Curtis Melvin, a senior fellow at the U.S.-Korea Institute at the School of Advanced International Studies at Johns Hopkins University and a frequent contributor to the North Korea-watching "38 North" website, it is part of a larger conglomerate of entities that includes the Ryugyong Kimchi Factory, the Ryugyong Household Goods Factory and the Ryugyong Electric Appliances Factory, along with a popular fitness center and spa in Pyongyang.
China's banking regulator did not immediately respond to an emailed request for comment on whether China has imposed restrictions on Chinese bank users' ability to make transactions at the ATMs in Pyongyang.
If sanctions are in fact why the ATMs aren't working, that could be a sign that Beijing is squeezing Pyongyang over its nuclear weapons and long-range missile programs.
China is isolated North Korea's main economic lifeline and has been under increasing pressure from President Donald Trump to do more to rein in its neighbour. The North's finance and banking sectors are major targets.
But how much Chinese policy toward North Korea has changed is hard to gauge.
Though China banned coal imports from the North in February, overall trade between the two countries has grown in recent months. Trade in the first quarter was actually up 37 per cent from the same period in 2016, reaching USD 1.2 billion. About USD 720 million of that were exports from China to North Korea.
In any case, there will likely soon be fewer Chinese tourists for the ATMs to serve.
Several Chinese tourism companies are eliminating or offering fewer North Korea tours because of increasing tensions on the Korean Peninsula and sagging demand amid safety fears. Air China also announced this month that it has discontinued its underperforming Beijing-Pyongyang route.
That leaves North Korea's Air Koryo as the only airline regularly flying into and out of Pyongyang's international airport.
Most foreigners arriving at the airport are whisked out of the terminal lobby before they have time to notice the ATMs anyway.