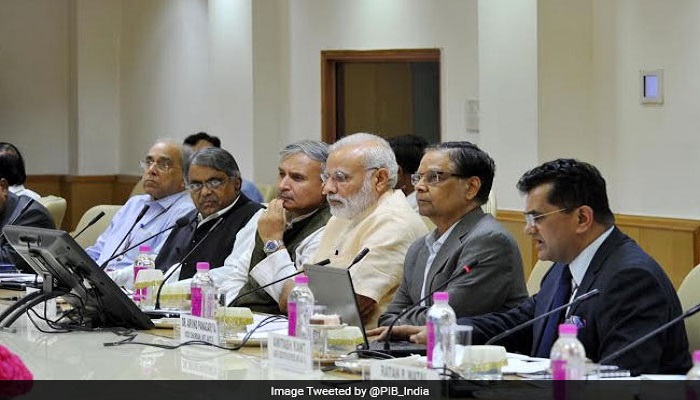 Prime Minister Narendra Modi on Sunday said his vision of "New India" could be realised through combined effort and cooperation of all states and Chief Ministers. To realise this vision of  "New India", Niti Aayog has come up with a 15-year vision — "India 2021-32: Vision, Strategy and Action Agenda" which is a three-tier action plan comprising of a seven-year medium-term strategy and a three-year action agenda also.  It also includes 300 specific action points or 'mantras'.
While addressing the Niti Aayog's governing council meeting, PM Modi said the think tank is working on a "15-year long-term vision, seven- year medium term strategy, and three-year action agenda." PM Modi stressed that this effort needed the support of states, which would eventually reflect in benefits to States.
Arvind Panagaria, vice-chairman NITI aayog said that the 300 'mantras' or specific action points have been identified for accelerating the economic growth of the country in the coming years. Panagaria, however, didn't share specific details about the 300 action points for "New India." These action points would be a part of the 15-year long-term vision of the Modi government.
Panagaria said that over "300 specific action points" covering a whole gamut of sectors have been identified.
The agenda for the "New India" has been prepared by the Aayog with inputs from the states, said a statement by the Niti Aayog.
Three-year action agenda
This focuses on immediate issues like governance, tax policy and administration, rule of law, environment and forest, sustainable management of water resources, social sectors like health and skill development, building an inclusive society. Modi government plans to address these issues in the short run as they would help build the foundation of the bigger goal of "New India".
Besides, issues like revenue and expenditure, the transformation of major sectors like agriculture (doubling farmers' income), industry and services, the creation of well-paid jobs, regional development, transport, the energy issue, digitisation, innovation and entrepreneurship, science and technology would also be addressed in the three years.
According to Panagaria, people can expect the following in "New India":
Housing with toilets, electricity and digital connectivity for all
Access to two wheelers or cars, air conditioning and other white goods for nearly all
A fully literate population with universal access to healthcare
A much larger and modern network of roads, railways, waterways and air connectivity
A clean India with clear air and water, clean cities and villages.
According to NITI Aayog estimate ,the economy of India will transform in 15 years :
The combined expenditure of Centre and State would rise by Rs 92 lakh crore to reach Rs 130 lakh crore by 2031-32.
By 2031-32, India's urban population would rise by 22 crore and reach around 60 crores.
Niti Aayog also projects that per capita income in the country would rise by Rs 2 lakh up to Rs 3,14,667.
Economy to grow three-fold in 15 years. "Our base GDP is large. If we grow at an 8 per cent average rate for the next 15 years, our GDP will be Rs 469 lakh crore by 2030 (around USD 7.25 trillion)," Panagariya told reporters. In 2015, India's GDP was around USD 2.11 trillion.