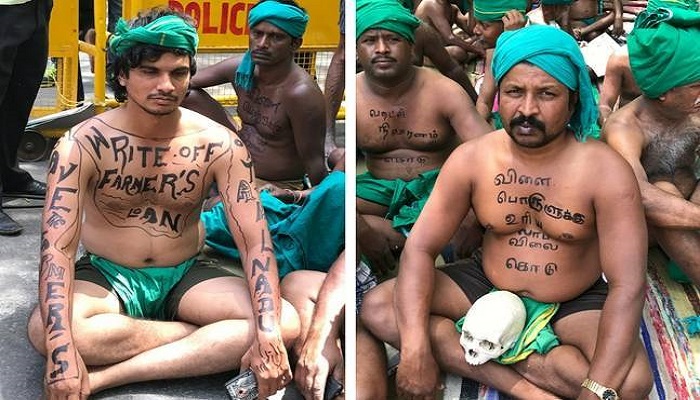 About 140 farmers from Tamil Nadu have been protesting at Jantar Mantar, Delhi since March 14th, demanding drought relief and waiving off farmer loans.
Their protest that was there for 41 days, with the protesters doing all sorts of things one can imagine to grab the attention of PM.
They started off with skull protest, shaved their head and moustache, wore saree. With no response from the central government , their protest intensified, doing bizarre things such as eating dead snakes and rats, drinking their own urine, many were running nude in Delhi streets, threatening to enter PM's office.
The protest eventually turned out to be nuisance for the people in Delhi.
Even a few people from Tamil Nadu cinema visited Finance Minister demanding relief for farmers. But the demands were rather ridiculous, where they demanded for 40,000 crores as drought relief.This was rather huge demand which non of the government would provide.
Many news channel took this issue as an opportunity to balme Modi. Even Rahul Gandhi visited these protesters to get pictures clicked for publicity.
The government had granted Rs.2014.5 crore for assistance to Tamil Nadu for drought and relief works, but was not used by the TN government.
Initially everyone thought that farmers in TN were really in trouble because of drought.But the protest, the protesters and the methods used by them for protesting do gave rise to certain doubts to many. Are they really farmers?Can farmers behave so inhumanly by killing innocent animals just for sake of protest?
The investigations conducted by certain cyber experts reveal shocking truths about this so called 'protesters'.
First of all, most of the people who are leading in this protest are not farmers. They are actually people funded by foriegn NGOs who are trying to maligh Modi government, according to reports. It looks more like a political battle than farmer's protest to put pressure on the central government.
Some pictures taken by few locals show that these protesters are getting packed food and mineral water from expensive Delhi restaurants on daily basis.Also they were given facilities such as beds and blankets.
Now, how come poor farmers who were hit by poverty due to drought could afford such expensive food and necessities continously for 41 days they have protested?
It was found that some who are there in the protest were involved in anti-national activities.
Sheik Hussain, who is a part of the farmer protest, is someone who supported terrorist Afsal Guru, and was also vocal against Indian Army in Kashmir.He was famous for writing blogs against Indian Army, where he wrote that Indian Army men rapes women in Kashmir.
Another man who heads Farmers protest is Sri Ayyakannu, is actually a lawyer from Tiruchirapally who owns huge farm lands.He was associated with RSS's Bharatiya Kisan Sangh, but was kicked out, after he was caught to have made lots of money in the name of farmers. He was also accused of misusing the funds of NABARD scheme. His son, also a lawyer has been known for minting huge sums of money from farmers.
According to cyber expert Gaurav Pradhan, these protest is being funded by Greenpeace Organisation which always worked against Indian projects and establishments.
This can also be a game played by Sasikala gang to get support from Congress.That can be the reason why Rahul Gandhi visited them during initial days. But as the truth behind this was exposed, Congress slowly distanced themselves from them.
Also after PMO recieved reports that they are not real farmers , PM also refused to meet them.The Central government has asked the State govermnet to deal with the agriculture issue , as it is an issue pertaining to the state itself.
So E.Palaniswamy the current Chief Minister of TN met the farmers , and they suddenly withdrew the protests.
Another fact is that all these so called farmers went back to Tamil Nadu by catching a flight, with their tickets being funded by the anti national NGO.