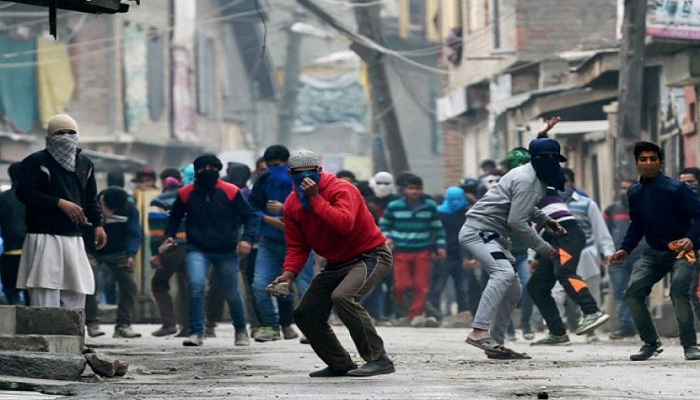 Three Army men, including a captain, have died in a suicide attack by terrorists yesterday at an army camp in Jammu and Kashmir's Kupwara. Seven soldiers were injured in the attack. By the afternoon, locals gathered and held protests, throwing stones at security personnel as they demanded the bodies of the terrorists. To control the crowds, the army opened fire in which a 70-year-old civilian man has died.
Captain Ayush Yadav, 25, Junior Commissioned Officer Bhoop Singh Gujjar Dusaa, 46, and Naik Venkat Raman, 38, of the artillery were killed while fighting the terrorists, who sneaked into the camp 4.30 this morning. Two of the terrorists were shot dead in a four-hour gun battle. The Army believes a third terrorist, suspected to be injured, is on the run and a manhunt is on in the area. Three AK-47 rifles were recovered from the terrorists shot down.
Sources in the Defence Ministry said the terrorists breached a double fence surrounding the camp, which is about 10 km away from the Line of Control and around 20 km from Kupwara city. They entered through the rear of the camp, where a firing range is located, and entered the premises.
A quick reaction team was rushed to the spot and it managed to contain the attack and kill the two terrorists, who wore black Pathan Pathan suits with combat jackets.
Last year in September, Pakistani terrorists had attacked an army camp in Uri. 19 soldiers died, the highest casualty suffered by the army in years. Relations between India and Pakistan have been deeply strained since the Uri terror strike.
In January last year, a group of heavily-armed Pakistani terrorists had struck at an Air Force base in Pathankot. Six security personnel were killed. On November 29, terrorists entered the premises of the 16 Corps headquarters on the outskirts of Jammu city, killing seven soldiers.