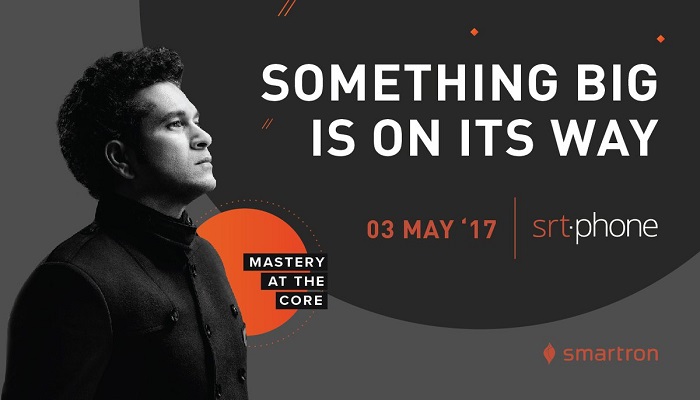 Sachin Tendulkar is associated with Smartron and will be launching a new smartphone in India in the coming week.
Smartron is set to launch its next smartphone which will be in association with cricket legend Sachin Tendulkar. It is known that Tendulkar is one of the strategic investors in the company, which entered the Indian smartphone market about a year ago with its t.phone and t.book. Now, the homegrown manufacturer has posted a teaser tweet stating that the 'srtphone' is on its way on May 3.
The 'srtphone' is said to be the first ever signature series of Tendulkar for any brand. While the cricketer has been associated with a dozen brands before, it will be the first one-of-its-kind partnership with Smartron for a smartphone.
Tendulkar recently started a new campaign where users have the chance to meet him in person on the launch of the smartphone on May 3. As of now there are not many details available about the anticipated srt.phone. Even the company tweet doesn't reveal much other than the date and 'mastery at the core' as the catchphrase. Now, this also suggests that the said phone could be focussed on chipset and performance.
Ready for a surprise? We're excited & can't wait to share it with you all. #srtphone is on its way on 3rd May'17, are you ready? #TwoOfAKind pic.twitter.com/mw5a2NYMHw

— Smartron (@smartronindia) 28 April 2017
However, if we look at the existing lineup; Smartron t.phone features a super AMOLED full HD display and is powered by Qualcomm Snapdragon 810 SoC with 4GB of RAM. The Smartron t.book, on the other hand, is a Windows 10 –powered hybrid laptop that aims to take on the Microsoft Surface at an affordable price.
Smartron was most recently in the news for signing a 3G and 4G patent license agreement with Qualcomm, allowing the company to develop, manufacture and sell WCDMA, CDMA2000 and 4G/LTE devices.