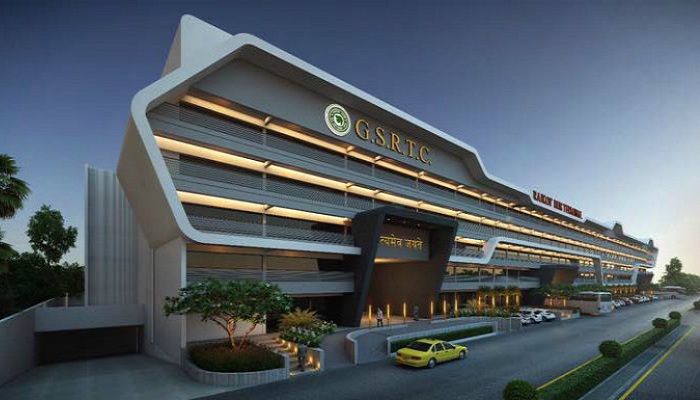 Gujarat State Road Transport Corporation (GSRTC) is all set to build a swanky interstate bus stop in Rajkot at the cost of whopping Rs 154 crore. Gujarat Chief Minister Vijay Rupani laid the foundation stone for the new bus stand in Rajkot. These pictures are an artist's impression of the lavish Rajkot Bus Station and have taken the internet by storm. The facilities of new Rajkot bus stop will be same as that of international airports.
Rajkot New Bus Stand building will be of eight floors, with 20 buses to be parked together on the ground floor apart from the underground parking. The State Government is adding CCTV surveillance cameras and GPS for the security and safety checks. The new bus port will also be lined with TV sets for the entertainment of the waiting passengers. Airport style sign boards and other public amenities will be present.
Rajkot Bus station will be built over 11,000 square meter area. The first floor of the new bus stop will have facilities for the commuters while other seven floors will have around 100 shops, offices, hotels, restaurant, theatre and more. Gujarat state government is renovating bus stands for the modern ones in a total of 10 cities.
Ten new and modern district level bus terminals to be built at Amreli, Bhuj, Junagadh, Rajkot, Nadiad, Navsari, Modasa, Patan and Palanpur at the cost of Rs.913.30-crore with facilities for commercial activities.
GSRTC has decided to put 1600 new buses at a cost of Rs 410 crore on the road. This decision has been taken in the interest of inhabitants living in the interior areas of the state and will eventually benefit more than 83,000 people.
Earlier, Prime Minister Narendra Modi laid the foundation stone of an iconic modern bus terminal at Bharuch in March, also built on PPP model at the cost of Rs.92.67-crore. The vision to give facelift the existing bus terminals in the state was that of PM Modi when he was the Chief Minister. The government has already built six such bus terminals – two in Ahmedabad at Gita Mandir and Ranip, two in Vadodara at Central and Makarpura, at Surat and Mehsana.