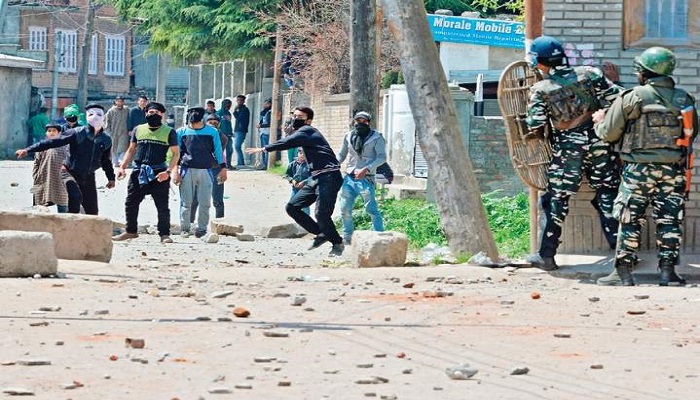 Jammu and Kashmir's Anantnag constituency LokSabha by-election which is to be held in May 25 has been cancelled by the Election Commission of India.
It said on Tuesday that the situation is not conducive for conducting polls in the valley as the region is witnessing a spike in violence and protests.
EC officials said the state administration in its report on April 16 and 17 mentioned that "certain elements" have started anti-election campaigns and there is an increased terrorist threat to those coming out to vote.
"Keeping in view the ground situation in the valley and having considered the reports of the divisional commissioner and CEO, it is not conducive to hold by polls," an EC official said.
The poll panel's decision comes a day after the Centre said it would not be able to deploy 75,000 paramilitary personnel, but only half of that for poll duty.
Sources in EC said the home ministry had pointed out concerns about the movement of "such a large contingent" and their "security."
MHA officials also asked the EC to postpone the election as it was not conducive to hold polls. While it said it could guarantee safety to polling stations, they could not ensure voter turnout.
The Anantnag LokSabha seat fell vacant after the resignation of the incumbent MP and Peoples Democratic Party (PDP) leader Mehbooba Mufti last year, who took over as chief minister of the state. Her brother Mufti Tassaduq Hussain will be contesting from the seat.
The ruling party had petitioned the EC to defer the polls indefinitely in the constituency in the wake of violence in the valley.
Polling to the Anantnag constituency has already been postponed once. Voting was scheduled for April 12, which was the postponed to May 25. The poll panel is yet to come out with a new date.
Violence marred the bypoll for the Srinagar constituency on April 9, in which at least 8 people were killed and scores injured. An abysmally low voter turnout of 7.14% was recorded.
EC officials said that too was a reason why the poll has been deferred indefinitely.