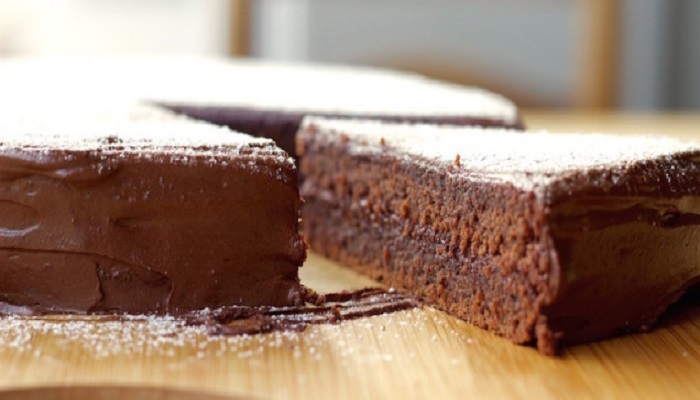 Who does not like to have cakes. But many prefer buying or make it done from bakers, as most of us believes that it take lots of skill and time to bake a  cake. But we do could make variety of cakes with perfection with  the ingredients we use.Here are some easy cake recipes we could try at home.
1. Flourless Chocolate Cake
Ingredients
260g dark chocolate, broken into pieces
260g butter
1 tbsp strong coffee
8 eggs, separated
100g soft light brown sugar
160g golden caster sugar
85g cocoa powder
½ tsp salt
2 tbsp cocoa nibs (optional)
Method:
Grease a 23cm cake tin and line with greaseproof paper. Melt the chocolate and butter together in a heatproof bowl set over, but not touching, a pan of simmering water. Stir until smooth, then stir in the coffee and set aside to cool slightly. Heat the oven to 160C/320F/gas mark three.
Put the egg yolks and sugars in a food processor and whisk until doubled in volume. Turn the machine off and sift the cocoa powder on top of the egg mixture (don't just dump it in or you'll get lumps). Add the salt, then mix on a low speed until the cocoa is well combined.
Put the egg whites in another large bowl and whisk to the soft-peak stage.
Gently fold the melted chocolate mixture into the egg yolk mixture. Fold a third of the egg white into the mixture to loosen it before very carefully folding the rest in, until the mixture is no longer streaky but an even, rich brown. Sprinkle the cocoa nibs on top, if using.
Spoon into the tin and bake for 40-50 minutes until just set on top, then allow to cool in the tin on a wire rack. Serve with something tart, such as creme fraiche.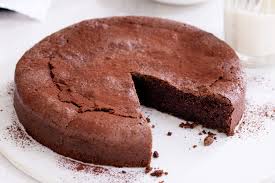 2. Butterless Sponge Cake
Ingredients
4 eggs
3/4 cup flour/ maida
3/4 cup castor sugar/ powdered sugar
3/4 tsp vanilla essence
3/4 tsp baking powder
2 round 8" cake tins
Method:
Pre heat oven to 400F or 204C.Cut two pieces of butter (grease proof) paper, the size of the base of the tins, and fit them in. Alternatively, grease the base and sprinkle some flour or sugar over it–a dusting of it. Measure the flour, sieve it on to a paper, and keep aside. Break eggs, one at a time into a cup and transfer into a mixing bowl. Add the sugar, vanilla, salt and baking powder to the eggs and beat well till light and foamy. When beaten enough, the mixture leaves a trail when the beater is lifted and moved above the batter. Of course the trail soon blends back into the batter. Fold in 1 tbsp flour with a spatula with light cutting, downward, upward and outward strokes. Fold in the rest of the flour in two instalments. Divide batter into the two tins. Hollow out the center by pushing the batter from the center towards the sides with a spatula. Place tins in a pre-heated oven, preferably on the same level and bake for about 15 minutes, or till the sides start shrinking from the edge of the tin. You can also test by inserting a skewer or sharp knife in the center–if it comes out clean, the cake is done. Cool cakes in the tin after baking.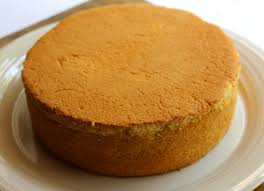 3. Coffee Cake with Mocha Frosting
Ingredients
For the cake:
2 cups plain or all purpose flour
2 cups fine granulated sugar
1/4 tsp salt
1 cup butter (unsalted – softened)
3 Tbsp coffee mixture ( 4 Tbsp instant coffee + 1 cup boiling water)
1/2 cup buttermilk or soured milk
2 large eggs
1 tsp baking soda
2 tsp vanilla
For the mocha frosting:
1/2 cup + 3/4 cup butter unsalted, softened
3 3/4 cups icing sugar / powdered sugar (more or less according to ur consistency)
2 Tbsp instant coffee
3 Tbsp dark cocoa powder
1/4 tsp salt
4 Tbsp heavy cream
Method:
To make cake:
Preheat oven to 350 degrees or 170 degree C.Grease and flour two or one big round baking pans.In a large bowl, mix sugar, flour and 1/4 teaspoon salt and baking soda,set aside.Melt butter in a pot over medium-low heat.While that's melting, add 3 tablespoons instant coffee to 1 cup boiling water,set aside.Once butter has melted, add coffee mixture to the butter in the pot. Let it come to a boil for about ten seconds, then turn off the heat, set it aside for just a minute.In a separate bowl, add buttermilk, eggs, and vanilla, mix it until well combined. Pour the butter/ coffee mixture into the flour mixture. Stir the mixture together gently. The purpose here isn't to mix it together perfectly, but to cool down the heat before adding the egg mixture. Add in the egg mixture and stir gently until well combined. Then pour into pans. Bake for 20-22 minutes or until cooked. (Chef says: For one big pan took me almost 35-40 minutes.)Allow to cool completely.
To make mocha frosting:
Combine all icing ingredients. Then ice the cake. Chill for an hour before serving.
4.Chocolate Lava Cake
Ingredients
135 gm dark chocolate
95 gm butter
100 gm icing sugar
2 egg yolks + 2 whole eggs
35 gm flour
Method:
Pre heat the oven at 200 degrees.In a microwaveable bowl add chocolate and butter. Melt it. (You can melt using the double boiler method too.) In another bowl whisk together sugar and eggs.Mix together the chocolate-butter mixture with the sugar-eggs mixture.Fold in the flour.Strain the mixture to remove any lumps.Keep this in the fridge for 5-7 minutes to chill.Pour the batter in greased ramekins.Bake for 9-10 minutes.Serve with whipped cream / vanilla ice cream or fresh fruits.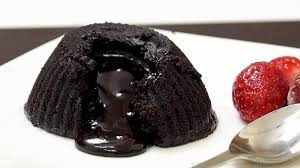 5.Eggless Vanilla Cake
Ingredients
2 cups flour
2 tsp baking powder
1/2 cup butter
1/2 cup powdered sugar
1/2 cup milk
2 tsp vinegar
1 tsp vanilla essence
7″-8″ round greased microwave baking pan.
Method:
Mix the flour, baking powder, butter and sugar. Add the vanilla and mix. Add the milk and vinegar and beat the batter smooth.Transfer onto the baking pan.  Bake at 100% for 2 minutes.  Turn container round and bake another 2 minutes.  Turn around again and bake 1 minute. Let stand for 5 minutes then turn cake out of the tin.
6.Marble Cake
Ingredients
For Cake:
150 gm butter
150 gm castor sugar
3 eggs
150 gm flour
1/2 tsp vanilla essence
1 Tbsp cocoa
1 1/2 tsp baking powder
For the Icing:
50 gm butter
100 gm icing sugar
50 gm melted chocolate
2 tsp cocoa
Sweets to decorate
Method:
Beat butter and sugar together until light and fluffy.  Gradually beat in eggs. Fold in all the flour except 1 Tbsp.  Divide batter in half.  Fold 1 tbsp flour in 1 half and the cocoa in the other. Place in alternate spoonfuls in a greased and lined 8″ cake tin.  Bake at 180 degrees centigrade for 20-25 minutes. Turn out and cool.
For the Icing:  Beat the ingredients together. Spread over cake.  Decorate and serve.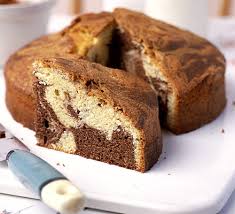 7.Banana & Jam Cake
Ingredients
3 bananas
3 eggs
1/2 cup olive oil
1/4 cup mixed fruit jam
1 cup brown sugar
1 1/4 cup wheat flour
1 tsp baking soda
1 tsp vanilla essence
Method:
Sieve atta and baking soda together. Keep aside.  Mix brown sugar, olive oil and jam together. Use a blender to do so. Add mashed bananas, whiz the blender till the banans are pureed.  Now, add eggs and vanilla essence and blend again for 3-4 seconds.  Gradually mix the flour with the banana mixture. Mix till the batter is smooth.  Grease the cake tin and dust it with a little flour.  Pour the mixture in the tin and bake at 180 degree Celsius for 25-30 minutes in an oven.