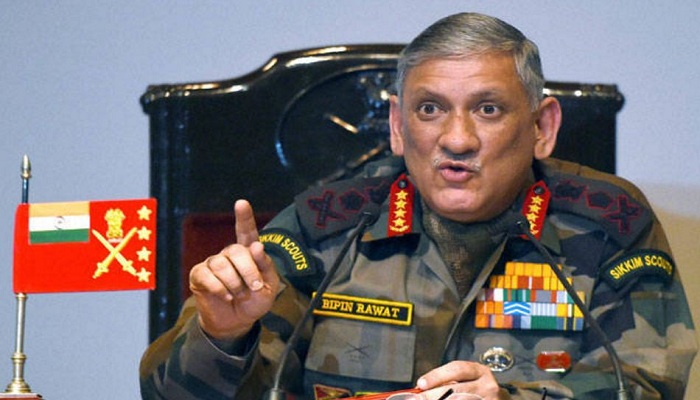 Amid the raucous call for retaliation for the murder and mutilation of two Indian soldiers at the Line of Control, Army chief General Bipin Rawat today provided a cryptic response.
Last year, the army had conducted surgical strikes on terror bases across the line of control. The strikes were conducted days after the terror attack in Uri in September. The plans were kept secret and the announcement was made the next morning.
Army Chief Bipin Rawat today said that the security forces will retaliate to these kind of actions.
 "We don't talk about future plans beforehand; we share details after execution," Rawat aid while talking about the preparation of the security forces in restive Jammu and Kashmir".
"We are taking measures, have beefed up our counter infiltration posture to take care of the situation," he added.
"They (Pakistani army) said it was not done by their forces. Then who did it? Their people came to our area and did it. They will have to take responsibility and face consequences for it," the officer had said.
This time, he had visited the area near Line of Control in Jammu and Kashmir from where the mutilated bodies of Border Security Force constable Prem Sagar and armyman Paramjit Singh were recovered on Monday morning.
While Pakistan Army has denied any involvement in the killing, India promised action. The army issued a warning the same day, saying "such despicable act will be appropriately responded".
Asked at a cabinet meeting what would India's next step be, Union minister Arun Jaitley, who also handles the defence portfolio, had responded, "Have faith in your army".