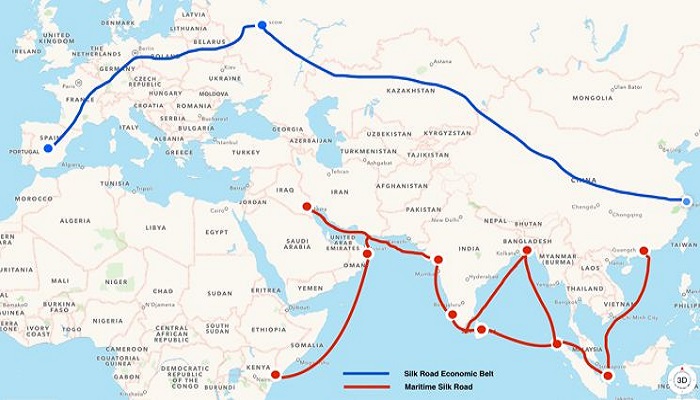 Does India have an answer to China's 'One Belt, One Road' (OBOR) project and its contentious component, the China-Pakistan Economic Corridor (CPEC)? Only time will tell. However, India is a founding member of the International North-South Transport Corridor (INSTC), a multi-nation project to create transport and logistics infrastructure akin to OBOR.
INSTC's significance might have just gone up as India expressed its reservations against OBOR, refusing to attend China's Belt and Road Forum summit on Sunday following concerns regarding sovereignty over the CPEC. With China moving ahead and securing the endorsement of even the US, the European Union and Asian rival Japan for its initiative, India should lay emphasis on its own transport and trade corridor project.
What is the INSTC ::
A geostrategic initiative being pushed by India to connect with Central Asia and Russia, INSTC's second dry run was reportedly conducted in April this year.
The roughly 7,200 kilometre-long INSTC is a proposed multi-modal (ship, rail and road) transportation system connecting the Indian Ocean and Persian Gulf to the Caspian Sea via the Islamic Republic of Iran, from where it connects St Petersburg, Russia, and North Europe. (Read more)
According to the Russia & India Report, "The main route begins in Mumbai, passes along the sea to the Iranian ports of Chabahar and Bandar Abbas, and from there by land to Iran's Caspian Sea coast and beyond – or across the Caspian Sea to Astrakhan, or overland to Central Asia or the Caucasus to Russia and northern Europe."
INSTC is expected to slash time for transportation of cargo to Russia from India by half to about 30 days.
The dry run of the corridor, Indian government officials have said that the INSTC could reduce the time and cost of deliveries by 30-40 per cent. Also, the INSTC is much shorter than the current route, which runs through the Suez Canal and the Mediterranean Sea. Citing the officials, the report added that goods transported through the Suez take 45-60 days to reach Europe, while those transported through INSTC would take 25-30 days.
INSTC's viability also depends upon the Chabahar port in Iran. Situated on the Makran Coast of the Sistan and Baluchestan province of Iran, Chabahar will also serve as a trans-shipment and logistics hub for the INSTC.
India and Iran had in 2003 agreed to develop Chabahar on the Gulf of Oman outside the Strait of Hormuz, near Iran's border with Pakistan.