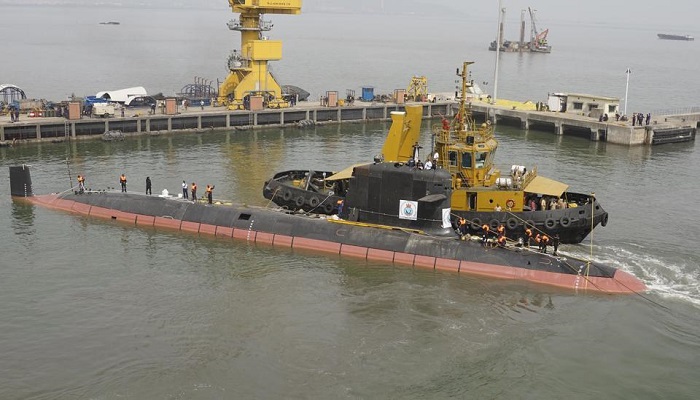 INS Kalvari, the maiden Scorpene-class submarine made in India has recently test-fired its first torpedo, bringing it one step closer to become a force to reckon within the Indian Navy.
The success story also adds another chapter in the opposite direction of the Scorpene Leaks saga.
INS Kalvari is one of the six Scorpene-class submarines Indian Navy and French company DCNS plan to build within India, as part of the Make in India initiative of Prime Minister Narendra Modi.
Manohar Parrikar, who was Defence Minister at that time, had initially brushed off reports that sensitive data had been leaked about INS Kalvari, which had already started its sea trials in May 2016. The matter was seen as attempted espionage, amid India's rising maritime superiority. 
In light of the Scorpene Leaks, the future of both the construction of Scorpene-class submarines as well as India's push for modernisation of its defence infrastructure had received a setback. However, INS Kalvari has reaffirmed the establishment's faith in it as well as the Scorpene programme by successfully test-firing a torpedo as part of the aforementioned sea trials.
After the test, Union Minister Arun Jaitley congratulated the Navy on the development. Jaitley, who currently holds the Defence portfolio after Parrikar took over as Goa Chief Minister.
 "Congratulations to our scientists, engineers on successfully test-firing torpedo from the first indigenously-built Scorpene-class submarine," he said.
"This indigenously-built stealth submarine will soon add potent underwater capability to the Indian Navy," he added.
Indian Navy has been ramping up its defence spent over the past few years, incorporating several new vessels, defence and attack systems into its ranks in a situation where countries like China are jockeying with it for position in the Indian Ocean region. 
One of its most recent spends was on a missile defence system from Israel that will cost the country $630 million. And all these efforts are not going in vain. An Indian Navy ship recently managed to foil a piracy attempt in the Gulf of Aden, notorious for its infestation of Somali pirates.