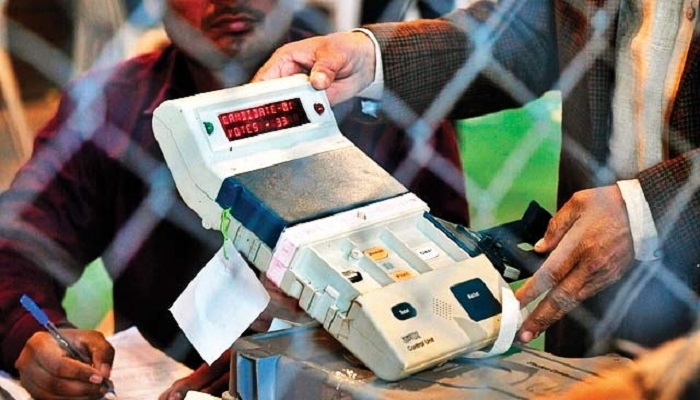 The much hyped Election Commission's EVM challenge proved to be a dud on Saturday with both Nationalist Congress Party (NCP) and Communist Party of India-Marxist (CPM) opting out of the event and instead choosing to observe the demonstration given by the Technical Expert Committee.
Chief Election Commissioner Nasim Zaidi said the issue of 'tamperability of EVMs' should be considered closed now.
Zaid said the CPM delegation, that also had CEO of an IT company, expressed complete satisfaction and suggested that the poll panel should hold such demonstrations and awareness sessions pro-actively while the NCP members conveyed that they were keen to treat the challenge as an "academic exercise".
He added that NCP members main apprehension about voting machines used in the municipal polls in Maharashtra was allayed by the commission.
The event had its own share of controversy as NCP was not satisfied with EC refusing to give it the serial numbers of battery and memory chip four days in advance and also questioned last minute changes made by the EC in the protocol for choosing EVMs.
"We were under the impression that the EVM challenge would give us an opportunity for an academic exercise to satisfy our queries. However, not providing us the required information and changing the protocol for the choice of EVMs created an unfair situation," said Vandana Chavan, NCP's Rajya Sabha MP.
The EC, however, allowed the NCP members to open the machines and take down the numbers of battery and memory chip.
"We told the NCP it can down the numbers and can come back later to the Commission with their doubts – for a challenge or academic exercise," Zaidi said.
Later making its position clear in a letter to Chavan, EC said, "The Technical Expert Committee and the Commission in an interaction with you offered to give you the memory and battery number today itself by opening the EVMs in your presence. Since you did not choose to participate in the EVM challenge today, the same could not be provided to you. You indicated to revert back to the Commission later in this regard."
Responding to protocol issue raised by the NCP, the Commission said, the challenge framework only allowed to choose a maximum of four EVMs from any four polling stations out of the five poll gone states but out of these four, as per point number 11 of the Challenge framework, NCP was to be given access to only one of the chosen EVMs for the purpose of the challenge.
"Since you had not given any specific polling station number as your choice of EVMs hence Commission had decided to randomly pick up EVMs from 14 polling stations to provide you with a reasonable number of EVMs for final selection of one EVM during the challenge," said the EC.