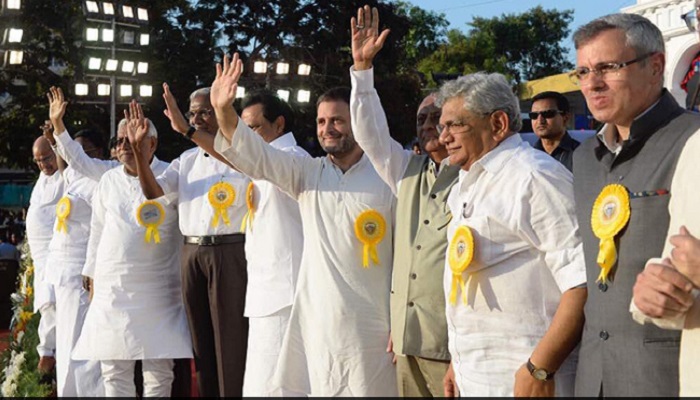 On DMK supremo Karunanidhi's 94th birthday party, the birthday boy was missing but most of the non-BJP ruled states attended the party.
Leaders including Rahul Gandhi, Nitish Kumar, Omar Abdullah, Sitaram Yechury attended the event held at YMCA grounds and obviously BJP was kept out of the event.
All the leaders who addressed thousands of cadre who gathered at grounds lashed out at the ruling BJP — a sign that they are forming a united opposition ahead of the presidential elections.
Rahul Gandhi lashed out at BJP for imposing its ideologies on to other states.
"Every single one of us, be it Omar, Derek or Nitish value the Tamil language as we know the Tamil culture makes India stronger. None of us has the arrogance to tell you how you should live. But there is an ideology in India which we will always fight against…they think they have all the answers," said Gandhi.
Former Jammu and Kashmir CM Omar Abdullah hinted that there cannot be a non- Congress ruled country.
"We want to tell the BJP you can't dream of a country without the Congress and the Opposition," said Abdullah.
This birthday bash was MK Stalin's first show of strength after becoming the working president of the DMK.
Also, every leader hinted at a stronger opposition. All these leaders not just praised Karunanidhi's political journey but also lauded Stalin, who they think will play a crucial role going forward.
Nitish Kumar hinted that Stalin will be the people's leader.
Karunanidhi, no doubt, has stitched together national alliances and Stalin is now trying his best to follow his father's footsteps.