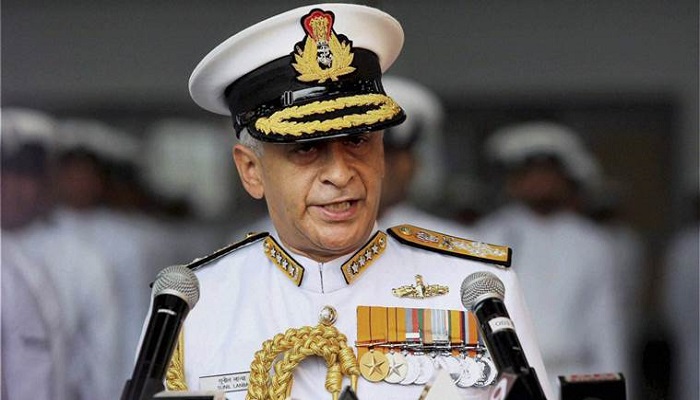 Navy chief Admiral Sunil Lanba will visit Israel next week close on the heels of Israel signing two major defence contracts with India and Prime Minister Narendra Modi's planned trip to the country. The Navy chief's visit comes ahead of Modi's proposed visit to Israel in July, a first by an Indian Prime Minister.
Lanba, also the chairman of Chiefs of Staff Committee, will visit Israel from June 11 to 15 during which he would be "reviewing progress on ongoing projects and initiatives" with Israel, besides holding meetings with Israel's Chief of Staff Gadi Eizenkot and the head of Israeli Navy. He is also likely to meet Defence Minister Avigdor Lieberman.
Israel's state-owned Israel Aerospace Industries (IAI) last month announced that it has closed yet another major deal worth USD 630 million with India, giving a boost to the Indian government's 'Make in India' campaign in a project to be jointly executed with Bharat Electronics Limited (BEL). The contract is related to the supply of LRSAM (Long Range Surface to Air Missiles) systems for four ships of the Indian navy. The contract will be carried out, for the first time, with Indian government owned BEL which will serve as the main contractor in the project as part of India's 'Make in India' policy.
In April, Israel closed a USD 2 billion defence deal with India with IAI taking the lion's share of it with contracts worth USD 1.6 billion. It is the largest single deal in the history of the Jewish state. "The new contract adds to other deals signed in the last decade by IAI with India's defence forces, reinforcing IAI's global leadership position in air and missile defence systems. The inclusion of BEL for the first time, is a step up in our relationship with the Indian industry as part of the 'Make in India' policy", IAI's President and Ceo, Joseph Weiss, had said after closing the USD 630 million deal about two weeks ago. "This unique project represents the close collaboration between India's DRDO, IAI and the defence forces of both countries. We will proceed to implementing it with joint efforts," Weiss said.